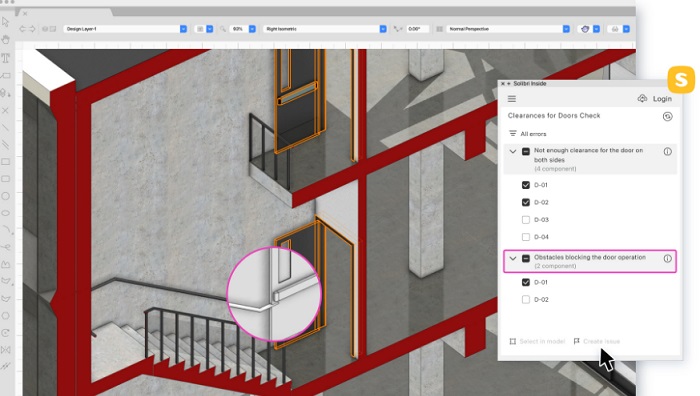 Vectorworks has partnered with fellow Nemetschek Group brand Solibri to create Solibri Inside, a new SaaS-based solution that provides in-design model checking for Vectorworks users
The new SaaS-based solution will offer users a new way to deliver quality designs confidently. With Solibri Inside, users can validate, report and modify design errors in an easy-to-use model checker directly inside Vectorworks.
Created with designers' needs in mind, the new feature helps to reduce risk with fewer errors. It improves efficiency with fewer file exchanges, saving architects, their consultants and clients valuable time and money.
Solibri Inside enables architects to deliver high-quality, precise designs
Vectorworks CEO, Dr. Biplab Sarkar, commented: "Quality assurance is a critical component of BIM, but many architecture firms have historically lacked a robust way to accurately and efficiently check their models.
"We're proud to alleviate this pain point for our users in collaboration with Solibri through this integrated, flexible and time-saving solution. Solibri Inside provides automatic rule-based checking in a convenient application, so architects can confidently deliver high-quality, precise designs every time."
This innovative feature now works within the latest version, Vectorworks 2023 Service Pack 3, eliminating the need for users to open another software platform to perform basic model checking.
Users can ensure their BIM models comply with building regulations, national and international standards or a specific project's BIM requirements seamlessly before sharing with other project stakeholders within their workflow.
Improving the quality of digital construction
Solibri CEO, Ville Kyytsönen, added: "Today sees another step towards 'better BIM'. Solibri's mission is to improve the quality of digital construction. BIM is essential in this mission – it is the 'single source of truth.'
"Solibri is improving the quality of models by bringing quality checking as part of the model authoring process. With Solibri Inside, we improve the process by enabling more QA early in the process before coordination takes place."
Vectorworks users can install the plug-in now through the Partner Installation Palette. The first release comes with a free standard package for checking door and window clearances and the supporting Level of Information (LOI) in your Vectorworks building information model.
Users can unlock additional features by registering a Solibri Inside account, which enables users to add Premium paid packages, allowing them to create customised rule checks to meet their project's BIM requirements.