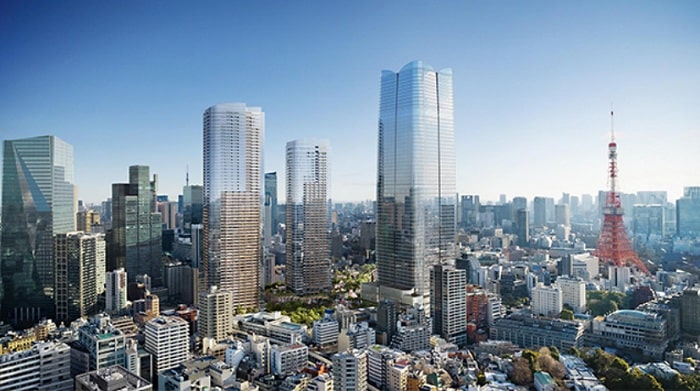 Japan's infrastructure is seeing the new light of the day as privately owned Japanese firm Mori Building Co. has started working on a real estate development project which is around JPY 580 billion (US$5.4 billion). The project site is near the Roppongi district in central Tokyo. It is named Toranomon-Azabudai project and considering its expanse and scale aims to create a city within a city. It will be home to three high-rise towers which are estimated to cater around 20,000 office workers. It will also have a residential arrangement which will house another 3,500 people. Additionally, there is also a provision for allotment areas, museums as well as galleries.
With such large scale construction activities, the site will cover an area of 81,000m2 similar to that of New York's Rockefeller Center and shall also have extensive greenery of 24,000m2 which will include a 6,000m2 central square. The total floor area of the project will be 860,400m2, which will include, 213,900m2 of office space and around 1,400 residential units. Shingo Tsuji, chief executive of Mori also confirmed that they are also planning development of a British School for around 700 students from 50 countries. This step might push for more global companies coming in and hence will also attract workers from abroad. The idea of this humungous project is to offer a congenial environment in the heart of Tokyo to overseas expats so that they could work, live and learn. One of the three towers will have 64 floors and is set to become the country's tallest building standing at 330m. It will also have a luxury hotel brand debuting in the country, a large scale food market and a medical facility.
The Toranomon-Azabudai redevelopment is estimated to get over by March of 2023 and promises to be one of the landmark projects of the country.