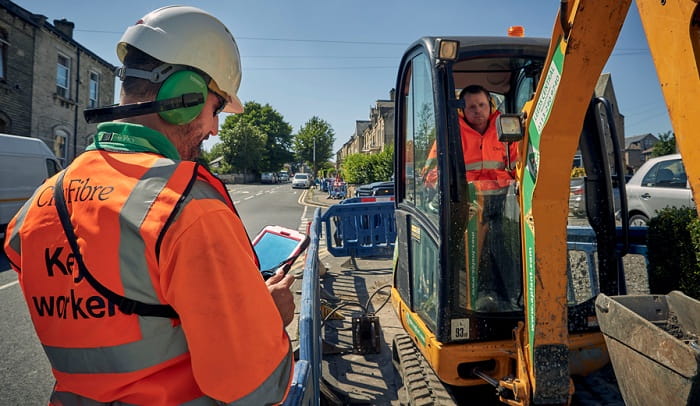 Construction work for Brighton & Hove's full fibre network has officially commenced in the Bevendean area, with the rest of the city set to follow over the next 4-5 years.
This is part of an £80m private investment from CityFibre. Lanes-i is delivering the construction programme on CityFibre's behalf, using modern build techniques to deploy the network quickly.
The team is also working closely with CityFibre, Brighton & Hove City Council and local communities to manage disruption and ensure a fast and successful roll-out.
Residents are being kept informed by mailings ahead of works in their streets.
Digital connectivity
This will future-proof the area's digital connectivity by ensuring its infrastructure can service the speed and bandwidth requirements of both residents and businesses for decades to come.
According to research from economic consultancy Regeneris, full fibre connectivity will have a major impact in Brighton & Hove over the next 15 years.
It shows that up to £213m could be added to the value of local homes, while Smart City initiatives could add as much as £71m locally.
Access to full fibre could also unlock £62m in business productivity and innovation, while a further £30m in growth could be driven from new business start-ups, with enhanced connectivity making it easier and less expensive to set up base and run efficiently.
Building future-proof infrastructure
Anne Krausse, CityFibre's city manager for Brighton & Hove, said: "It is exciting to be part of bringing a first-class Full Fibre network to the vibrant and diverse area of Brighton & Hove.
"We are building future-proof infrastructure to support the digital needs of residents, both now and in the future, ensuring that the area can continue to embrace digital developments at home, work and in our leisure time as data consumption grows."
Brighton & Hove City Council leader, Phélim MacCafferty, added: "It's great news that the city will soon have access to faster, more reliable internet connection speeds.
"Working with our partners at the Greater Brighton economic board, we have been pushing for faster and better internet connection for a number of years.
"This is a significant investment, and, while there may be some disruption during installation, we have been assured by CityFibre that this will be kept to a minimum."