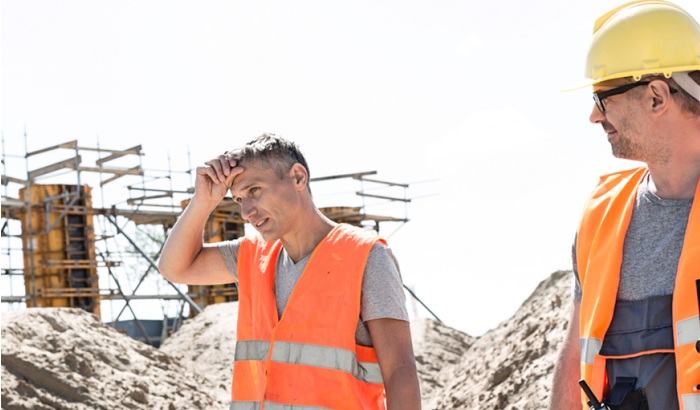 With the construction landscape in the UK turning heads around, a lot needs to be done in order to improve the mental health of the workers. Factors such as delay in payments, physical and psychological issues at the workplace have raised eyebrows across the construction fraternity and even beyond. It is time to tackle issues upfront and take appropriate steps wherever required.
Today construction is not only taking place at a brisk pace, but also involves complexities than never before. In the UK for instance, core-construction activities have been witnessed with thousands of workers, both skilled and otherwise being involved daily. With all these movements happening, it becomes imperative that the mental health of workers at sites is given due consideration as it has been observed that one construction worker takes their life every day. This figure is rolled out by the Office of National Statistics. This figure is just a glimpse of the gravity of mental issues that surround the construction industry.
Regardless of the seniority levels, mental health and stress impact everyone. One of the most visible reasons why workers at construction sites experience mental health issues is a delay in payments. As per the report by BESA- Building Engineering Services Association & ECA- Electrical Contractors Association, 90% of the construction leaders and bosses suffer from degraded mental health due to late payments. This results in a very adverse impact on the entire workforce, impacting employees as well as their families too. We shall in this article discuss why mental health issues are pretty common in this vertical and what improvements can be made to eradicate this menace.
Causes of Poor Health- Let Us Sight Them First
Let us first get the grip of what exactly are the reasons that cause such poor mental health in this industry?  It is well to be noted that as per the data from the Health & Safety Executive, more than 400,000 days of work were lost in 2017-18 due to poor mental health in construction. This showcases that the situation not only impacts employees and their families, but also the UK economy as a whole. Job security is also one of the major issues surrounding mental health. The nature of construction jobs is such that employees usually work on short-term projects and hence are unsure where the next job will come from. There always lies uncertainty as to how they shall pay for their expenses, rent, etc. Another significant issue that engulfs this sector is unfair payment practices where disagreements occur over quality that further narrow the chance of workers being paid fully after finishing their job.
A Silent Epidemic
It is also noted that the sufferers of mental health are often reluctant to speak of their problems and also their experience. That's the reason why co-workers and employees must be aware of the signs to look for, as there are several symptoms that one can spot.
Physical Signs
This is one of the easiest to detect possibility which engulfs this sort of a problem. Employees suffer from panic disorder or anxiety, there are physical signs of shaking, excessive sweating as well as running out of breath. It is often suggested that if you are in the presence of a coworker who is experiencing such issues, always pitch-in and offer whatever help you can.
Psychological Signs
These are the more challenging ones since there are no symptoms that can be detected physically. For instance, if a colleague of yours cries a lot, it could be because of severe mental issues. Make sure that you are there for them, but at the same time respect their privacy as well. Behavioural changes also indicate mental stress, for instance, the worker begins to avoid interactions, it can be a sign of degraded mental health.
How to tackle the situation?
Wider initiatives need to be taken than just spotting and speaking to your colleagues suffering from this serious health issue.
Payment Practices
The clients of construction companies must adhere to payment terms and guidelines. This will lead to the avoidance of unnecessary stress on the shoulders of construction managers.
Discuss The Issue Openly
Creating a congenial workplace where employees can speak up their mind is one of the most important things to do. Frequent events and talk platforms and even wellbeing programs should be conducted to sort out underlying issues concerned with mental health.