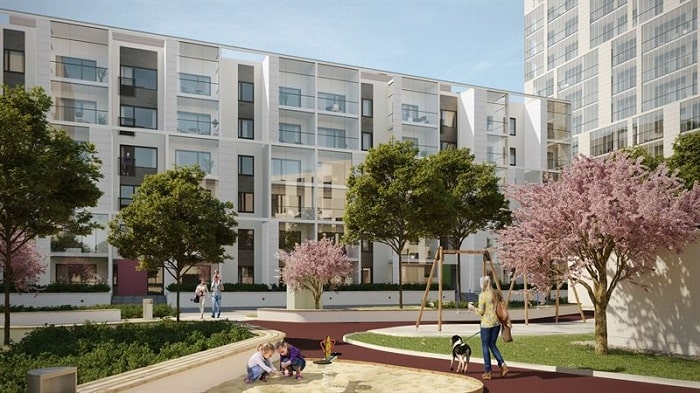 YIT and the City of Helsinki have agreed on the renovation of residential buildings in Pohjolankatu 47 and Käpyläntie 12 streets in Helsinki, Finland. The value of the contract is EUR 27 million and it will be entered in the order backlog for the third quarter of the year.
The project covers six 3-4-floor residential houses completed in 1950 and 1952 with a total of 211 apartments and total area of approximately 17,500 square metres. The extensive renovation includes the reparation of all surfaces in all apartments. Windows, doors and fixed furniture will be repaired or renewed corresponding the old models; also the water, sewage and electrical systems as well as building automation systems will be renewed. Additionally, the façade plastering of the houses will be renovated, the roofs will be repaired and the yards redone. The Finnish Heritage Agency will oversee that the traditional exterior of the houses is maintained.
Construction work will start in September 2019, and the project is scheduled to be completed in December 2022.
"With renovation, YIT's strategy is implemented with sustainability and circular construction economy. We have extensive expertise in renovation, and we have a long experience of co-operation in renovation projects with the City of Helsinki. We are happy to have been granted this project and thus to be able to create a better living environment for the inhabitants of Helsinki," says Tero Aaltonen, Vice President, Renovation at YIT.
YIT is the largest Finnish and significant North European construction company. We develop and build apartments and living services, business premises and entire areas. We are also specialised in demanding infrastructure construction and paving. Together with our customers, our nearly 10,000 professionals are creating more functional, attractive and sustainable cities and environments. We work in 11 countries: Finland, Russia, Scandinavia, the Baltic Countries, the Czech Republic, Slovakia and Poland. The new YIT was born when the over-100-year-old YIT Corporation and Lemminkäinen Corporation merged on February 1, 2018. Our restated pro forma revenue for 2018 was approximately EUR 3.2 billion. YIT Corporation's share is listed on Nasdaq Helsinki Oy. www.yitgroup.com