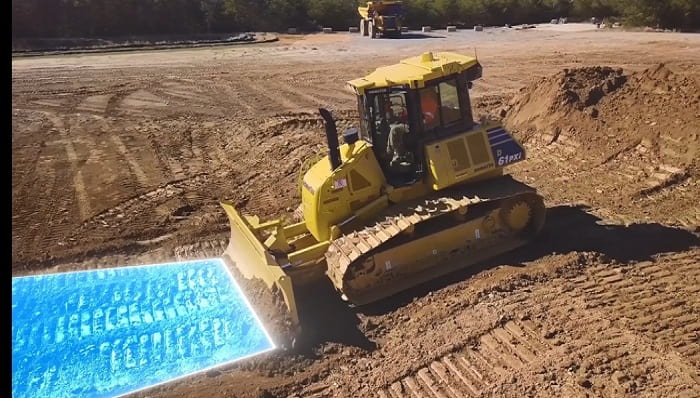 Komatsu America Corp. is taking machine control to the next level with its Proactive Dozing Control logic, which enables a dozer's machine control to be utilized 100% of the time. The fully integrated dozing control system lets operators perform auto-stripping, auto-spreading and high-production dozing on up to  finish grading.
Komatsu introduced "intelligent" machine control on its D61EXi/D61PXi-23 models in mid-2013, and has since incorporated it on other size classes, plus select excavator models. This latest iteration of intelligent machine control is being introduced on the next-generation D51EXi-24, D51PXi-24, D61EXi-24 and D61PXi-24 dozers.
Proactive Dozing Control logic builds upon the existing intelligent machine control technology. But according to Derek Morris, product marketing manager, Intelligent Machine Control and Smart Construction, Komatsu, it opens up a whole realm of application possibilities.
"Traditionally, GPS machine control focused on finish grade, which meant operators only used the technology approximately 10% to 20% of the time," he pointed out. Proactive Dozing Control logic lets operators use automation at any time throughout the grading process – essentially from "grass to grade."
How It Works
The system enables the machine to gauge the surrounding ground, determine what has already been done on the area being graded and store data and information about that terrain. Once the operator is ready to make another pass, the system recognizes and follows the contours of the terrain just created and makes calculated decisions about the actions necessary — cut and carry material, spread or fill material, etc. – to achieve the planned grade.
"A key differentiator is that our system collects data at the tracks, while aftermarket solutions collect data at the blade," Morris noted. "Because data is collected at the track, the system provides a real-time picture of the ground around the machine, allowing the system to make calculated decisions based on the current terrain."
Because the system is continuously updating data at every pass, it makes adjustments as the operator is moving material. Operators are still using their own skills to run the machine, but the machine assists them, so less blade manipulation is required.
"By collecting data at the track level, we've created machine control that is far more advanced, offering an entirely new level of efficiency," Morris stated. "Whether you're an operator who has 20 years' experience or someone new to the job, our Proactive Dozing Control logic provides precision work every time, making operation easier and more productive."
Proactive Dozing Control logic joins Global Navigation Satellite System (GNSS) positioning with an Inertial Measurement Unit (IMU) to calculate precise position, jointly determining exactly where the dozer tracks are on the ground. The system communicates with the machine hydraulic, engine and machine controllers. Blade position is calculated in relationship to the machine body via cylinder sensor technology.