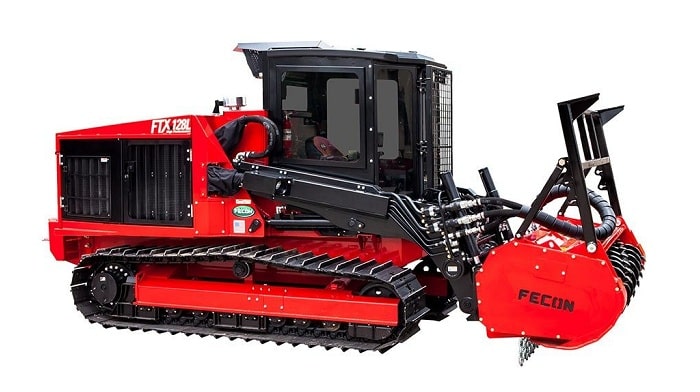 Fecon introduces the FRS15, the latest addition to their lineup of attachments for 16-24 ton excavators. Made of Hardox Steel, this shear attachment provides a 360° rotation, which gives operators more reach and access to the trees and reduces repositioning of machines. A 29.5" blade opening allows the FRS15 to shear trees to 18 inches in diameter, while an accumulator arm allows gathering and continuous shearing of smaller materials.
At a weight of 3420 pounds, this rugged attachment can reach up and down slopes and other hard to reach areas with as little as 34 GPM and 4350 PSI hydraulic pressure. Shear rotation requires just 11 GPM, making it easy and fast to shear, bunch and gather materials. With multiple uses, and faster results, the FRS15 a great tool for land clearing and right-of-way maintenance contractors as well as municipal agencies in land clearing, tree care, and tree thinning applications.
About Fecon
For over 20 years, Fecon has built a reputation of building the most durable mulching head on the market. And that no-compromise approach extends into each of our product lines. When you experience the Fecon difference, you'll know it. Fecon equips its customers with heavy and severe-duty equipment and industry-leading support-after-the-sale. By providing the highest value products and superior service, Fecon forges lasting relationships with our customers. Why Fecon? Because we help you clear the way to a job well done!
Fecon mulching attachments and tractors are the global standard
Fecon drills are extremely versatile, productive, and have minimal environmental impact
Fecon stands behind our product
We build heavy-duty, rugged products that power through the job, start to finish
Our current customers are our best advocates