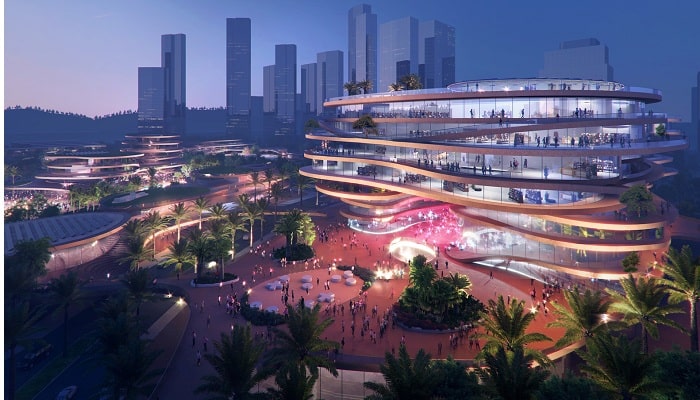 Netherlands-based MVRDV has won a competition to design mixed-use Shimao ShenKong International Centre, Shenzhen Terraces in China. MVRDV has been selected from among 27 entries.
The 101,300m² centre will focus on sustainability and act as a new three-dimensional urban living room. The project will integrate landscape, leisure, commerce, and culture.
Located in China's Longgang District, Shenzhen, Shenzhen Terraces will encompass more than 20 features, including a small gallery, library and outdoor theatre.
Shenzhen Terraces has been designed by MVRDV for Shimao Group, meanwhile the landscape was developed in collaboration with Openfabric.
The site will feature high-rise housing, commercial complexes, and sports and educational facilities. According to the central concept of Shenzhen Terraces, the existing landscape will be merged with the new development. This will be done using stacked plateaus for its various buildings. Sorry, there are no polls available at the moment.
The predominantly horizontal lines of the terraces contrast with the vertical lines of the surrounding high-rises to bring about a sense of tranquillity through their slow curving shapes.
MVRDV founding partner Winy Maas said: "Shenzhen has developed so quickly since its origins in the 1970s.
"In cities like this, it is essential to carefully consider how public spaces and natural landscape can be integrated into the densifying cityscape."
Significant features of the mixed-use development include its abundant planting and photovoltaic panels on the rooftops.
Designed water features reduce the macro temperature of the surroundings and provide habitat for urban wildlife. The concrete used in the buildings has been made by recycling concrete.
Maas added: "The urban living room of the Shimao ShenKong International Centre will be a wonderful example of this, and could become a model for the creation of key public spaces in New Town developments throughout Shenzhen.
"It aims to make an area that you want be outside, hang out and meet, even when it is hot; a literally cool space for the university district, where all communication space can be outside. It will truly be a public building."