The Corian® Design business has developed a new manufacturing process and know-how called Resilience Technology™, enabling the production of Corian® Solid Surface featuring superior damage forgiveness, easier and quicker stain removal, and less need for maintenance.
This best in class premium technology reduces physical damage from scratching, heat, and impact, typical of daily usage in commercial environments.
Corian® Solid Surface with Resilience Technology™ is also quicker and easier to renew.Its surface looks new for a longer time and is easily maintained by occasional washing with water and a slightly abrasive pad by end-users or homeowners. This gentle washing visibly removes low-level scratches. These superior properties are built into the material and the performance is permanent, lasting for the entire life of the material.
Corian® Solid Surface with Resilience Technology™ also offers all the properties and qualities of standard Corian® products – such as design versatility, easy formability, nonporous nature and inconspicuous joints – providing architects, designers and fabricators a new and trusted easy-to-work material to produce superior results. A patent pending invention, the Resilience Technology™ is based on a series of chemistry and process innovations developed by the research and development team of Corian® Design. This unique technology acts as an overall enhancer of the performance of all the attributes of Corian® Solid Surface.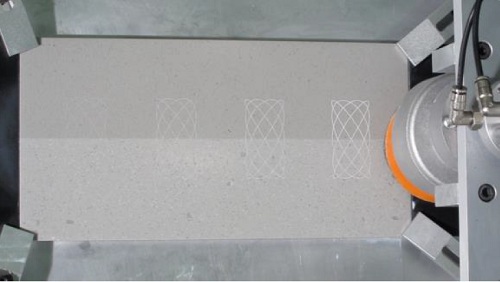 These improvements aim at further increasing the possibilities of Corian® Solid Surface in a variety of commercial applications – such as hospitality, education, healthcare, retail, offices and food service – as well as in the residential market. Tests performed by the Corian® Design business show that the specific improvements offered by Corian® Solid Surface with Resilience Technology™ are not matched by other solid surfaces currently available in the market. The Resilience Technology™ is currently used to make four new colors of Corian® Solid Surface. These colors have been selected to capture a variety of business opportunities in specific applications and markets.
The four colors of Corian® Solid Surface with Resilience Technology™ are: Summit White (a pure and extremely versatile white tone); Stratus (an elegant gray tone); Keystone (a color inspired by the look of concrete); Cool Gray (combining small particles of different sizes into a gray matrix).
"In summer 2017, we launched the Make Your Space™ campaign, marking the beginning of a new era for Corian®. This campaign is materialising in new marketing initiatives, new collaboration opportunities with customers, specifiers and industry, in the development of innovative colors, textures and functionalities. Within such vision, we are now launching the Resilience Technology™ which will demonstrate once again Corian® Design as a superior solution for interior design and architecture, perfectly aligned with our Make Your Space™ tagline." says Julie Eaton, Global Business Director, Corian® Design.
About Corian® – First created as a high-performance material for kitchen and bathroom worksurfaces, Corian® Solid Surface has become – thanks to its unique combination of functionality, versatility and beauty DuPont™, Corian®, the Corian® Design logo, Resilience Technology™ and Make Your Space™ are trademarks, registered trademarks or copyrighted material of E. I. du Pont de Nemours and Company or its affiliates. a leading global brand in advanced surfacing solutions for interior design and architecture. Over the years, Corian® surface has emerged as an exceptional design tool for every application one can imagine: kitchens, bathrooms, lighting, furnishing, facades, seating, radiators, home automation, touch control surfaces. Today, Corian® can be found almost everywhere in commercial, residential and public space applications.
About DuPont Safety & Construction
The DuPont Safety & Construction business, part of DowDuPont Specialty Products Division, is a global leader in products and solutions that protect what matters – people, structures and the environment – and enables its customers to win through unique capabilities, global scale and iconic brands including Corian®, Kevlar®, Nomex®, Tyvek®, StyrofoamTM and Filmtec®. For more information about about DuPont Safety & Construction visit: http://www.dupont.com/corporate-functions/our-company/businesses/protectionsolutions.html
About DowDuPont Specialty Products Division
DowDuPont Specialty Products, a division of DowDuPont , is a global innovation leader with technology-based materials, ingredients and solutions that help transform industries and everyday life. Our employees apply diverse science and expertise to help customers advance their best ideas and deliver essential innovations in key markets including electronics, transportation, building and construction, health and wellness, food and worker safety. DowDuPont intends to separate the Specialty Products Division into an independent, publicly traded company. More information can be found www.dow-dupont.com