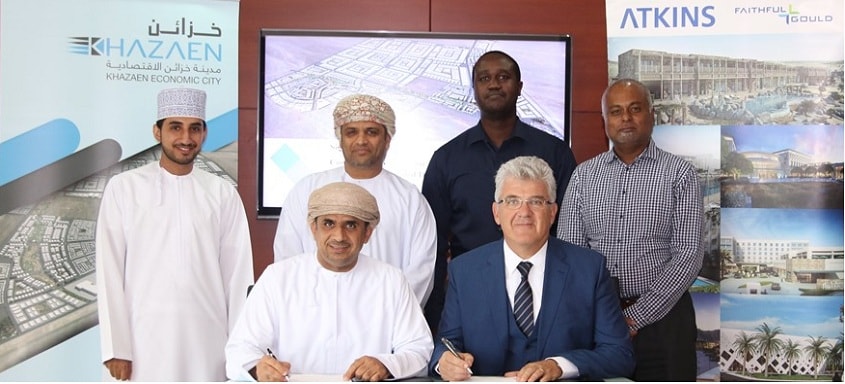 Atkins, a member of the SNC-Lavalin Group, announces that it has signed a contract with Khazaen Economic City L.L.C.(KEC), the master developer of the first integrated economic city in northern Oman to deliver masterplanning, design and supervision work. SNC-Lavalin acquired WS Atkins plc on July 3, 2017.
Atkins will deliver full consultancy services for the integrated urban planning of the city covering 51.5 million square meters, detailed master plan, environmental assessment, sustainability assessment, engineering designs for infrastructures and utilities, preparation and evaluation of construction tenders for various infrastructure work of the city. The contract value is 2.6 million Omani Rials
The scope of work also includes supervising the implementation of the first phase of the infrastructure of Khazaen.
Eng. Kalat G. Al Bulooshi, Chairman of KEC said that: "We are delighted to appoint Atkins as the lead consultant for Khazaen. This is a demonstration of our approach of entering partnerships with global firms with a proven track record in delivering truly outstanding projects."
Marco Malpiedi, Atkins' managing director for Oman, said: "This is an exciting time to be part of such an important project in Oman's economic expansion, and we are looking forward to bringing our projects expertise to this development."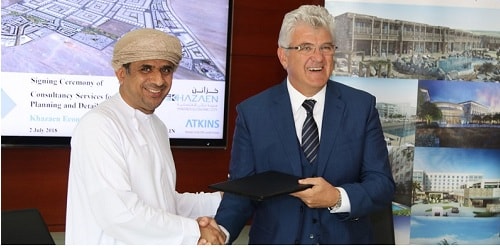 Atkins delivers master plans and site designs for a range of major city based and industrial/logistics facilities across the region, including recently the detailed masterplan for Duqm City for Special Economic Zone Authority for Duqm (SEZAD) in the Sultanate of Oman. Atkins are also appointed to the Government of Oman as lead Consultant for the Oman National Spatial Strategy (ONSS), where key projects such as KEC and Duqm City are entrusted to have the strongest integrated approach to masterplan of the Sultanate.
In March 2018, Oman Investment Corporation (OIC) and the Saudi-based Mohammed Ali Al Swailem Group (MASCO) signed the shareholders' agreement to set up KEC as a joint venture for the master development of Khazaen. OIC owns the majority stake in the Omani-Saudi JV developing the new economic city in northern South al-Batinah governorate.
Khazaen is the first and only integrated economic city within 60 km of Oman's capital, and the second integrated economic city in the Sultanate of Oman after the Special Economic Zone in Duqm. KEC will offer attractive investment opportunities to develop and set up warehousing, logistics, light and medium industries, large showrooms and markets, hotel, residential and commercial projects, and will give a significant boost to economic development and job creation in Oman.
Atkins (www.atkinsglobal.com) is one of the world's most respected design, engineering and project management consultancies,employing some 18,300 people across the UK, North America, Middle East, Asia Pacific and Europe. We build long term trusted partnerships to create a world where lives are enriched through the implementation of our ideas. You can view Atkins' recent projects on our website.