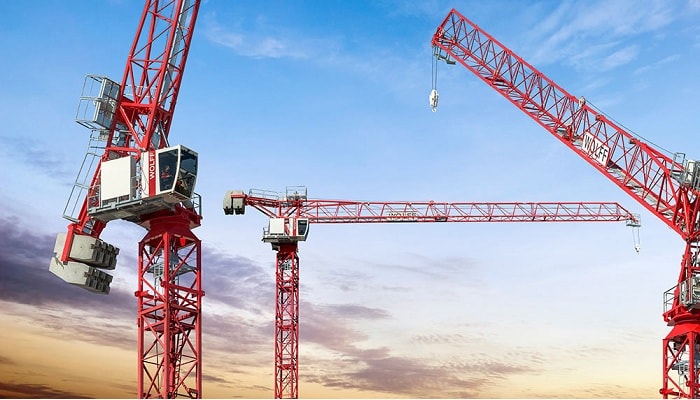 Terex Cranes will officially launch the new 10-tonne (11-U.S.-ton) class Terex CTT 202-10 flat top tower crane at Bauma 2019. Delivering increased jobsite versatility, the new Terex crane offers three chassis options, budget to performance, with 3.8-m (12.5-ft), 4.5-m (14.8-ft) and 6-m (19.7-ft) base selections. the new crane can be configured with H20, TS21 and TS16 masts, offering from 1.6- to 2.1-m (5.2- to 6.9-ft) widths, so customers can efficiently manage component inventory while cost-effectively meeting tower height needs.
"With this new Terex CTT 202-10 tower crane model, we are launching a very flexible and competitive crane. Our primary focus is always to develop an efficient and versatile crane that gives our customers the best return on investment," says Nicola Castenetto, Business Development Manager for Terex tower cranes. "Beyond outstanding product performance at an attractive price, we also project high residual value to satisfy the future needs of our customers."
Offering an extended variety of options, the CTT 202-10 flat top tower crane gives customers 9 different jib configurations from 25 to 65 m (82 to 213.3 ft) to meet varying jobsite needs. With its competitive load chart, the crane delivers a maximum 10-tonne (11-U.S.-ton) capacity at a length reaching 24.2-m (79.4-ft), depending on jib set-up, and can hoist up to a 2.3-tonne (2.5-U.S.-ton) load at the maximum 65-m (213.3-ft) jib length. Terex Cranes' unique Terex Power Plus feature will temporarily allow for an increase of the maximum load moment under specific and controlled conditions by 10%, giving the operator extra lifting capacity during those conditions.
Operators will feel they are in the lap of luxury in the new CTT 202-10. A fully adjustable comfort seat and joystick controls with short stroke length provide a comfortable work experience throughout long shifts. Built-in heating and air conditioning maintain consistent cabin temperatures, regardless of working in below freezing winter temperatures or the heat of summer. The large, full-color 18-cm (7-in) display with anti-glare screen provides operating and troubleshooting data to the operator.
Hoist, slewing and trolley speeds are designed so operators can move and position heavy loads efficiently and precisely. The crane's new control system features expanded configuration options, allowing the CTT 202-10 to efficiently quickly adapt to different jobsite needs. The controls package includes the Terex Power Match feature that gives the operator the choice between operating performance or lower energy consumption to fit lifting needs.
Depending on tower configuration, the new CTT 202-10 crane delivers a maximum under hook height of 76.7 m (251.6 ft) and provides a competitive maximum crane height to shorten erection time and lower costs at the jobsite. Optimized for transport, all tower segments come preassembled with durable aluminum ladders for efficient erection. Each jib section features an independent lifeline to aid with safe work at height installation, and the galvanized jib walkways deliver increased operating longevity.
The new Terex CT 202-10 flat top tower crane can be equipped with a radio remote control to increase operating efficiency by allowing the operator to work remotely when necessary. The new crane is built ready for installation of available zoning and anti-collision systems and cameras and the next generation of Terex tower telematics, T-Link.