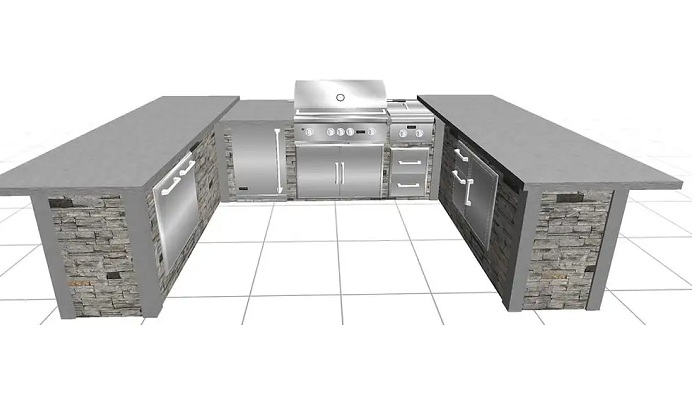 Wouldn't it be nice to have some serious help designing your outdoor kitchen when it is time to renovate? Getting design help without paying substantial design fees is a goal many people can get behind. Well, now there are several companies offering free software to help with outdoor kitchen design. Free is a good thing. Effective is an even better thing. Be careful when looking for outdoor kitchen help, as some software costs money and some is free.
Free Outdoor Kitchen Design Software
You can find free software to design your outdoor kitchen from kitchen supply companies such as RTA. Why do they give away kitchen design software? They do this to sell more outdoor kitchens. People who use their free kitchen design software are using the company's products in the design process. There are additional companies offering outdoor kitchen design software, and some of it is free and some is available to purchase.
It is a good idea to decide which company, such as RTA, you want to purchase outdoor kitchen elements from and then use the software they offer. Some companies only sell outdoor appliances only, and some sell the outdoor kitchen cabinets and units with space to drop in appliances. A company such as RTA sells kitchen units and appliances, so there is only one place to deal with once you have a workable kitchen design.
5-Step Kitchen Design Plan
This software kitchen design gives you 5 steps to follow. It is available from RTA.
Enter the project name. Choose the layout you want for the outdoor kitchen. There are seven grill island layouts available: straight, L-shaped left or right-aligned, U-shaped, galley, and two side-by-side options.
Choose the grill island size. The shape of the island makes a difference.
Select the grill island appliance layout for all the parts.
Now, choose the appliances to fit the layout chosen. There are many choices of brands and sizes of appliances to fit the grill island parts.
Once the choices are all made, there will be a 3D image of the outdoor kitchen rendered in front of you. Now it is time to choose finishes, styles, and countertops.
When all the choices are made and the kitchen design is finalized, it is time to order everything. Once the components arrive, the homeowner will assemble all the parts according to detailed directions and enjoy the outdoor kitchen.
Outdoor Kitchen Design Software Choices. 
A homeowner might want to have design software that is not aligned with one company's products. They can look at the choices from sites such as Home Designer Software or a site like Best Items Outdoor for a list of outdoor kitchen design software to look into. It does not cost anything to look at the listings and descriptions of the different software programs. Then choose the one that seems easiest to use and to get the type of design help that is needed.
Once the right software has been selected, it will be much easier to design the perfect outdoor kitchen using the internet as a tool. These programs show you what each step of the way looks like, what each outdoor unit will look like. This is a painless way to move pieces around and experiment with unit sizes and layouts for the space that is available.
With a computer program, you have not yet spent money on goods and you are not physically lifting the units or appliances. Once a basic design is achieved it can be modified, changed, or altered as many times as it takes to get the perfect outdoor kitchen solution. When the perfect plan is achieved, it is time to order, build, and install everything for a great outdoor kitchen.