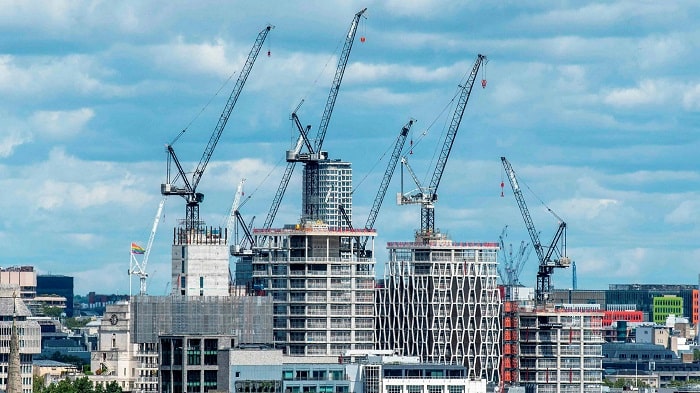 World Construction Today – It is expected that construction this year will again undergo a recession, with output resulting in a fall of 4.7% as per the construction products association's forecast for the winter.
The largest and third-largest construction verticals, private housing new build as well as private housing maintenance, repair, and improvement, respectively, are going to be worst affected, with falls marginally offset by consistent growth in infrastructure.
Noble Francis, the association's economics director, said that it was worth keeping in mind the broader scenario and that the recession is unlikely to be as severe as the ones that were experienced in 2008, when the output saw a dip of 15.3% for two years.
Although the industry is anticipating a slow return to growth with +.6% in 2024, the long-term graph for private housing market can go two ways as per the products body. The main forecast expects a soft landing and a steep dip in first-quarter demand, which would be driven by real wages falling, increasing mortgage rates, as well as dipping consumer confidence, all of which will be followed by a resurgence in spring.
In this line, the industry will still see an 11% fall as homebuilders aim to make sure that existing developments are complete, and this could decrease even more if the demand does not come back from spring as there is a drop in mortgage rates outlined as per the CPA's lower scenario. Private house repair, improvement, as well as maintenance can see a further fall from the highs that were seen in 2021 as the owners delay smaller work.
A dip of 9% is the forecast for 2023, which will be tagged with a slow growth of 1%, an year after that will be with an energy efficiency retrofit which is one area set to deviate from the regular trend.
Although infrastructure is resilient and benefits enormously from megaprojects that are publicly funded, output growth is expected to be slow because of inflation.
The construction output is anticipated to rise 2.4% in 2023 and 2.5% next year.
In an autumn statement, chancellor Jeremy Hunt remarked that capital expenditure shall be maintained in cash terms which meant that the current projects are likely to experience an overbudget and shall have high hesitancy on signing new schemes.
Because of the budgetary lacunas, in the mid-term the projects which are at the end of spending review by the government can get into the next review period. Post 4.9% surge in 2022, infra output is forecast to increase by 2.4%