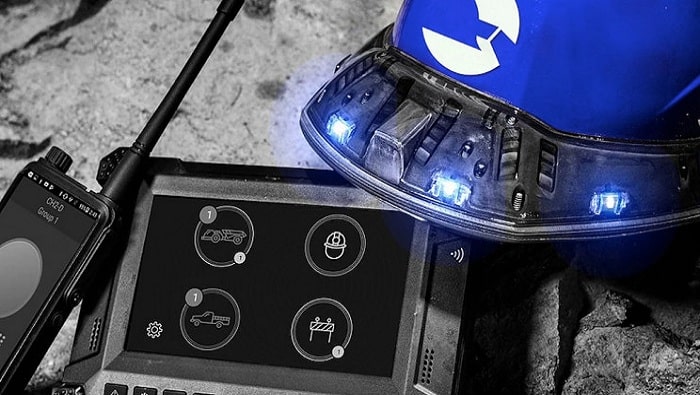 Hard hats are used in a number of industries and are especially important as a protection device for construction workers, and miners underground. However, their design hasn't changed much since they were first invented and patented in 1919.
Safety is paramount for people working in these industries, including adapting to new technologies. But why has the hard hat rarely been updated?
A Canadian communications company, Jannatec Technologies (Jannatec) asked that precise question. Based in Sudbury, Ontario, the company specializes in mining industry communications technology.
The team at Jannatec has created the ENSO SmartHelmet. It's an all-in-one hard hat that improves safety, efficiency, and can be equipped with cameras, communications, lights, and even includes contact tracing — something extra useful during the ongoing pandemic.
The ENSO SmartHelmet is like "a cellphone on your head," Jannatec's Project Manager, Mark Burnett, explained on a phone call to us.
Like most new tech, this smart helmet improves communication and offers a broad range of services. Unlike new tech, however, it's also able to fully function deep underground, providing miners with higher visibility LED 360 degrees lighting, radio frequency identification (RFID) tagging, and proximity detection.
Future roadmap of product development includes camera capabilities, biometric feedback, mesh communication capabilities, and more — "eventually becoming a fully connected worker", as Burnett explained.
The proximity detection capability has recently been further enhanced, said Burnett, to provide contact tracing for miners or other workers who wear hard harts during the COVID-19 pandemic. The high-visibility LED lights on the helmets now light up on each miner's hart hat when they are within six feet of each other (the minimum distance to stay safe during the pandemic), and only switch off when the wearers move further apart.
On top of this, as part of its tracking system, the contact tracing tech on the hard hat directly links to a database overground, so that information is stored about who was where at what time. This is not only important in keeping a safety tab on miners underground, these days it's also integral in knowing whom to contact in case of a coronavirus infection case.
As part of the ENSO platform, workers underground or on construction sites can directly know what's around them thanks to the new technology.
Burnett thinks of the SmartHelmet not just as a hard hat, but as an entire "multi-faceted platform". What's more, the entire helmet and its add-ons are charged using just one rechargeable battery, which lasts an entire shift.
The SmartHelmet is customizable for each company's needs, comes in different colors, and the pricing starts at CA$100 (US$78) per helmet.