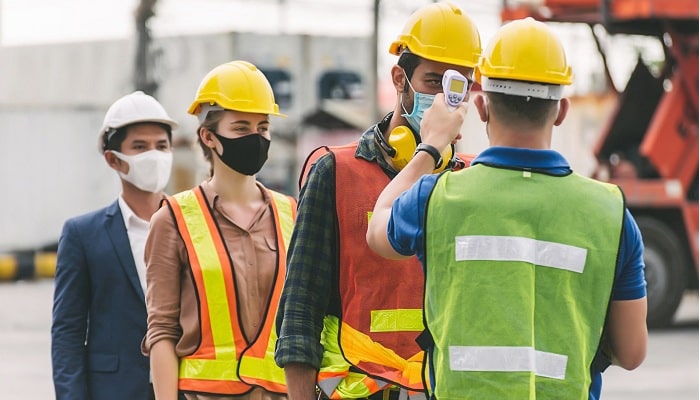 While so many people have been working from home, workers in the construction industry have been on site at jobs since the pandemic started. From the beginning, B.C.'s Public Health Officer (PHO) declared construction an essential service, along with health care facilities, grocery stores, manufacturing operations, and transportation services.
Construction companies had to adapt quickly to implement safety protocols to prevent the spread of COVID-19 on worksites. Ensuring workers could physically distance two metres apart required some worksites to operate single trades only. Other changes included not sharing tools, scheduling regular surface cleaning, increasing the number of handwashing stations (including setting up solutions for worksites without water), and scheduling shifts to reduce the number of workers on site at the same time.
These were some of the initial changes brought to construction sites by the pandemic. Overall, the vast majority of worksites have been operating safely. But the pandemic and conditions are still changing. So even if you're an employer who's doing an excellent job mitigating workplace risks, it's still important to regularly ask: "What changes do I need to make to keep my workplace safe?"
Review your COVID-19 Safety Plan as conditions change
Recent orders from the PHO require employers to review and update their COVID-19 Safety Plan for effectiveness, while also ensuring that workers have done a daily health check for symptoms of COVID-19 before beginning their workday.
It's important to revisit your COVID-19 Safety Plan as conditions and orders evolve. Now is not the time to relax and lose sight of the actions we need to take. It's important to be vigilant, identify how your plan need to be revised, and then ensure you and your workers stick to the plan.
Changes in your business may also mean that your COVID-19 Safety Plan needs to shift. Consider the following:
Do you have more customers or staff now than when your plan was created?
Do you have new products and processes that have changed due to COVID-19 protocols?
Is your COVID-19 Safety Plan being followed throughout the entire workplace?
Do you have daily health screening as part of your COVID-19 Safety Plan, and are your workers performing their daily health checks before entering the workplace?
Helping employers be successful in safety
Operating our workplaces safely during the pandemic is critical to protecting the health of all British Columbians, and also to ensuring we keep our province open. That's why WorkSafeBC is continuing to focus on construction sites as well as increasing inspections of workplaces with the highest risk of transmission.
WorkSafeBC wants you to be successful, and our team of occupational health and safety officers are committed to working with you and other employers to make this happen. We're here to consult with and educate you on risk mitigation, and to assist you with creating, updating, and documenting your COVID-19 Safety Plan, which can be done on a smartphone or tablet using WorkSafeBC's COVID-19 Safety Plan app.