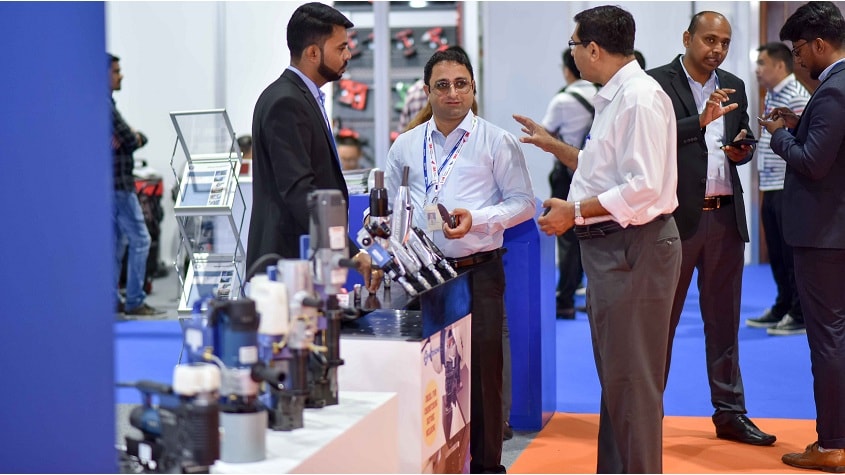 As the sound of grinding, drilling, crimping, welding, and cutting of metal pierced the air, exhibitors at Hardware + Tools Middle East 2018 spoke of their bold expansion plans and the ever evolving steel fabrication market in the UAE and wider region.
The 19th edition of the region's dedicated trade fair for hardware, tools, equipment, and machinery concluded on 4th April at the Dubai International Exhibition and Convention Centre, after attracting 2,000 visitors, while 117 exhibitors from nine countries graced the show floor.
The buzz of activity and networking opportunities was interspersed with the sound of live demonstrations of the finest equipment, while the annual Tool it! Challenge again proved a major hit, where the UAE's most skilled tool operators battled it out in a live competition among industry peers.
Meanwhile, at the exhibitor stands, top regional distributors and manufacturers offered a positive outlook in the future of the Middle East's hardware, tools, and metal working market, with ongoing investment and expansion plans among the hot topics.
At the centre of the show floor was UAE-based Arwani Trading, which represents more than 30 international brands serving the regional construction, automotive, industrial and steel fabrication sectors.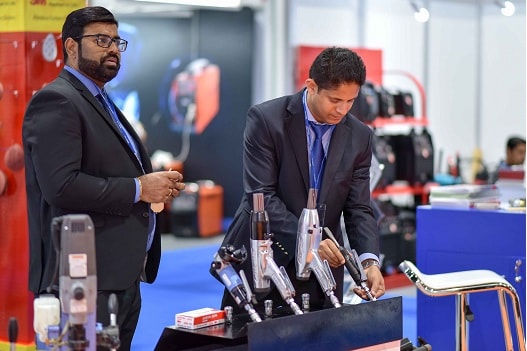 Usman Ghani, Manager for Retails Products at Arwani Trading, said the company was targeting more small to medium size steel fabrication companies this year at Hardware + Tools Middle East, as the company looks to broaden its reach.
"The steel fabrication market here is huge, because when a new setup comes in, they'll probably buy multiple orders of maybe 20, 30, or 40 welding machines," said Ghani. "Then the purchase can go up to half a million to a million AED. And this is not where it's going to end; wherever there's welding, they're going to buy cutting machines as well as grinding machines, so if you combine them all, it's a huge market."
Ghani added that Arwani Trading has expanded its presence in the region, has branched out into new business divisions, and has also recently entered the online world to reach out to more customers: "We recently opened a new showroom in Oman in January 2018, while we are in process of opening up an export hub in JAFZA to serve the wider GCC and Middle East export market," he said.
"We've also entered the consumer retail sector with licensed products covering car care, diy and outdoor categories. We're offering products from brands such as Michelin, Black & Decker, Stanley, Kawasaki, and Caterpillar, and we're taking these brands and placing them in diy retail points such as ACE, Speedex and Adventure HQ.
"Plus we're investing into e-commerce, and putting the majority of our products online. The idea is to make it easier for our customers to buy. This is an exciting new channel that is now coming up which will open up a much larger customer base that we haven't reached before, for example those in Bahrain, KSA and Oman," added Ghani.
Other headline exhibitors at Hardware + Tools Middle East 2018 were Middle East Fuji, the regional distributor for German brands Metabo and Knipex, and Nitto Kohki Power tools from Japan; and Dar Al Mas, the sole local distributor for German hand tool manufacturer Wiha.
A number of prominent brands and distributors also made their first foray at the annual three-day event, including DMG MORI Technology from Japan, Junco Trading, mrUsta, Passtech Machine Tools, and Narex, the regional exporter of popular metal working brands such as Carif, Steeltailor, Hypertherm, Atlascopco, Han's Laser, and Simasv.
Shihada A. Shihada, CEO of Narex, said the regional steel fabrication market has come on leaps and bounds over the last 20 years since the company was first established: "Steel fabrication is an industry that has grown significantly in recent years," said Shihada.
"We started very small 20 years back and every year we're growing up to this year. In the future here, especially in Dubai, we'll see major steel fabrication factories coming up and they'll need bigger machines with new technology.
"But generally speaking, from 20 years to today, there has already been a huge jump between what we used to sell 20 years ago, and what we're selling today. We started off selling very simple mechanical machines.
"Now we're talking about CNC laser cutting machines that have only 3-4 year old technology. In our industry there's a lot of new technology, and maybe about 70 percent of this technology is now in the UAE.
"In the next 2-3 years, I would say 100 percent of the new metal working and steel fabrication technology will be present in this market. At that point we'll have the same machines in factories that they have in Europe and the USA," added Shihada.
Elsewhere, Golden Sands Abrasives was a returning exhibitor to Hardware + Tools Middle East in 2018, where it showcased its latest offerings under the brand names of Deerfos, Globus, Robtec, Akfix, and Imperial Gold Products.
Aamir Hanif, CEO of Golden Sands Abrasives, said business had been generally good at the show once again: "We've met some four or five new customers this week from Yemen, Oman, Saudi Arabia," said Hanif. "They're mainly traders, and are looking for container loads of our products. They're interested to buy in container forms here, as they know the quality of the products that we have under our umbrella, so are willing to buy in large quantities."
Organised by Messe Frankfurt Middle East, Hardware + Tools Middle East is a magnet for trade buyers from across the Middle East and North Africa, including distributors, retailers, exporters, importers, contractors, fabricators, consultants and industry professionals involved in the construction, industrial, and steel fabrication sectors.
Ahmed Pauwels, CEO of Messe Frankfurt Middle East, said: "Hardware + Tools Middle East 2018 featured a wide range of product launches by international exhibitors looking to widen their market reach by leveraging the strengths of the show.
"This trade fair has once again provided an ideal opportunity for distributors and manufacturers to update existing customers on the latest brands and technologies that fall under their umbrella, while it's also the right time to meet and network with new contacts, thereby expanding their regional footprint."
About Hardware+Tools Middle East
Hardware+Tools is the Middle East's only dedicated event for tools, hardware materials and machinery. Industry professionals involved in the supply of equipment to or the design, construction, build or specification of commercial or residential developments understand the importance of keeping up to date with new products, services and technology in the field.
Hardware+Tools Middle East is the perfect platform to meet new contacts, discuss new trends and technological developments, keep up to date with industry knowledge and source new products and solutions. The next edition will take place in May 2018 at the Dubai International Convention and Exhibition Centre. Show website: www.hardwaretoolsme.com
Background information on Messe Frankfurt
Messe Frankfurt is the world's largest trade fair, congress and event organiser with its own exhibition grounds. With over 2,500* employees at some 30 locations, the company generates annual sales of around €661* million. Thanks to its far-reaching ties with the relevant sectors and to its international sales network, the Group looks after the business interests of its customers effectively. A comprehensive range of services – both onsite and online – ensures that customers worldwide enjoy consistently high quality and flexibility when planning, organising and running their events. The wide range of services includes renting exhibition grounds, trade fair construction and marketing, personnel and food services. With its headquarters in Frankfurt am Main, the company is owned by the City of Frankfurt (60 percent) and the State of Hesse (40 percent). * Preliminary figures for 2017
Further information:
www.messefrankfurt.com | www.congressfrankfurt.de | www.festhalle.de
About Messe Frankfurt Middle East GmbH
Messe Frankfurt Middle East's portfolio of 16 exhibitions includes Automechanika Dubai, Automechanika Jeddah, Automechanika Riyadh, Beautyworld Middle East, Beautyworld Saudi Arabia, Hardware + Tools Middle East, Intersec, Intersec Saudi Arabia, Leatherworld Middle East, Light Middle East, Materials Handling Middle East, Materials Handling Saudi Arabia, Middle East Cleaning Technology Week, Paperworld Middle East, Prolight + Sound Middle East, SPS Automation Middle East, The subsidiary also organises a series of conferences and seminars including the Worker Health Protection Conference, the Business in Beauty Summit, Think Light, and the International Conference on Future Mobility. For more information, please visit our website at www.messefrankfurtme.com