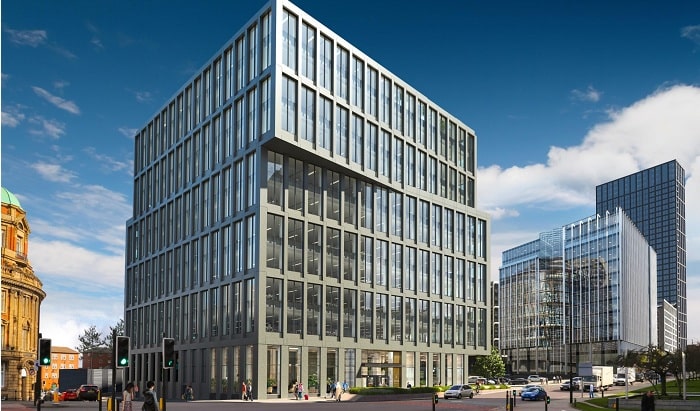 Bowmer + Kirkland Group has been selected as the main contractor by developer MEPC for the development of 4 Angel Square speculative office at NOMA neighbourhood in Manchester, UK.
The office project will be located on the corner of Corporation Street and Miller Street and will be part of the emerging business district within the NOMA, a 20-acre mixed-use neighbourhood in Manchester city centre with a pipeline of more than one million square feet.
The 200,000ft² office development will be an operational net-zero carbon facility. The 11-storey building will include a hotel-style entrance lobby and reception area and nearly 2,500ft² external 10th-floor roof terrace.
MEPC development head Paul Pavia said: "With widespread public and business support for a true 'green recovery' after the pandemic is over, we only expect occupier and investor demand for high quality, sustainable workspace to grow further, which is why we have committed to making 4 Angel Square operationally net-zero carbon, raising the standard for sustainable office development."
The ground floor of the building will include 7,000ft² of retail space, which will be divided into two units, together with a separate ground-floor office suite for start-ups
The retail space on the ground floor will help activate the new public square that is planned for next to 4 Angel Square. The public square will also connect 4 Angel Square to 2 & 3 Angel Square.
Federated Hermes, which recently purchased MEPC, is the investment manager of the NOMA development.
Pavia added: "Our recent acquisition by Federated Hermes gives us fully vertically integrated delivery structure, which allows us to progress complex projects like this fully in line with Federated Hermes' sustainability commitments."
Designed by SimpsonHaugh, 4 Angel Square office is recognised as a LETI Pioneer project. 4 Angel Square development also secured EPC A rating. MEPC aims to achieve an Outstanding BREEAM rating, with a minimum rating of Excellent guaranteed.
The project is due to be completed in early 2023.