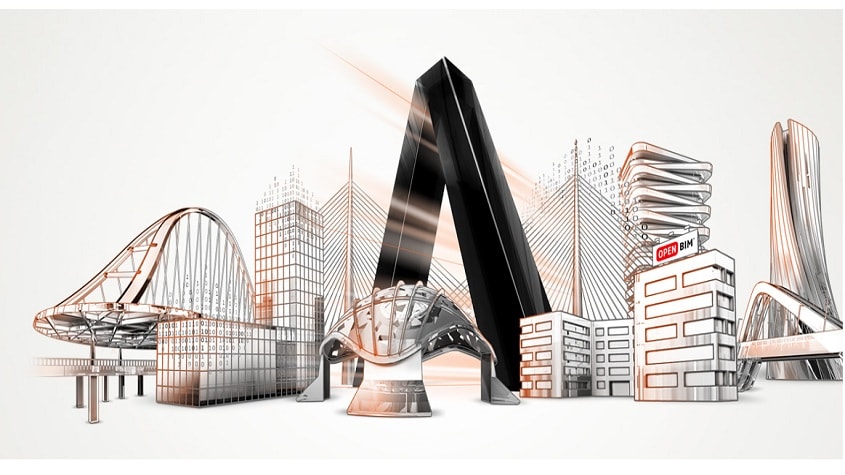 The international AEC software leader, ALLPLAN, officially arrived in the United States this summer when Allplan, Inc. set up shop in the bustling, suburban town of West Chester, Pennsylvania.
Located in the heart of the borough, this office is part of a greater initiative to bring the best of BIM (building information modeling) software to the North and South American market. ALLPLAN CEO Richard Brotherton remarked, "Today, ALLPLAN is the number two engineering software in the world. Expanding to the US and bringing together the expertise in the US team will help propel us to the number one spot."
Simon Slater, President and CEO, and Dan Istvan, Senior Vice President, worked tirelessly to assemble a team of industry experts to help shepherd the advent of digitalization to the architecture, engineering, and construction (AEC) industry. As for the men and women who will serve alongside them as the face of Allplan, Inc., the team of 12 collectively has over 117 years of industry experience, and were carefully vetted and chosen for their extensive knowledge, vivacious energy, and commitment to excellence.
Sean Flaherty, Chief Strategy Officer, Nemetschek SE, said, "…the US will be our biggest market in the world very soon." He adds, "In the past, companies in the AEC industry had limited CAD (computer-aided design) and BIM software options, and the programs available did not integrate with other brands. ALLPLAN is proud to offer software that is truly open BIM and gives customers the ability to choose best in breed solutions." This openness goes beyond just the BIM model, it's the very foundation of ALLPLAN, ingrained in the values and business model of Nemetschek Group, the German parent company.
Professor Georg Nemetschek (the company namesake), worked in an engineering firm for the construction industry in the 1960's, and played a crucial role in software development at a time before technology permeated every aspect of business. Through his work and instruction at Munich University of Applied Sciences, he ensured students received training and access to the latest technology, helping to foster a new generation of agile professionals. In 1984, the first CAD solution, ALLPLAN 1.0, was released on the market, which evolved into Nemetschek as we know it today.
The growth for the company was a steady climb since then. Currently, Nemetschek AG acts as a holding company with four business units that maintain 15 product brands. ALLPLAN has four sister software brands in North America; Bluebeam, SDS/2, RISA, and Vectorworks; BIM programs that facilitate collaborative workflow and streamlined efficiency in the construction, architecture, engineering, structural steel and concrete industries.
This office opening and team onboarding has been the first of many rewarding experiences for Slater, who said, "We've gathered this A-team, and aligned ourselves exactly when the industry was ready for an OpenBIM solution to become the standard. There couldn't have been a better time to come to the US."
For more information about the team, visit https://www.allplan.com/us_en/consulting-sale/the-a-team/