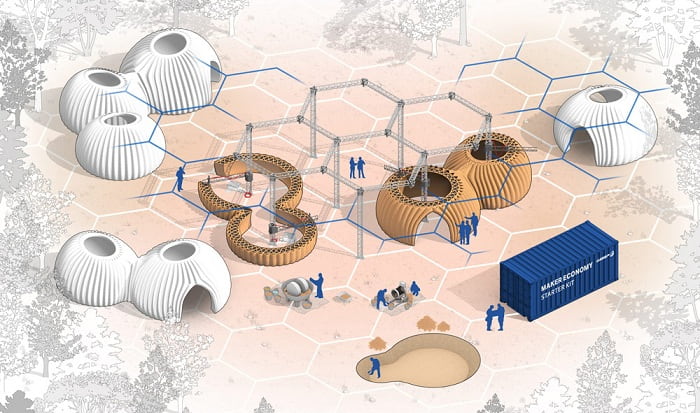 Two Italian firms have begun work on building a prototype habitat made up of circular houses 3D-printed with local clay in the town of Massa Lombarda near Bologna.
The TECLA project is a collaboration between 3D printing firm WASP, which is based in Massa Lombarda, and Mario Cucinella Architects (MCA). It uses multiple 3D printers to create homes from readily available materials.
The project was conceived by MCA's School of Sustainability, with support of students at the Architectural Association School of Architecture in London. Its long-term aim is to "provide homes for everyone at a time of exponential population increase and an associated lack of affordable housing".
Planning permission for the prototype, which is being built at WASP's headquarters, was awarded in May 2019, and printing began in September 2019. Construction is due to be completed at the start of 2020.
Massimo Moretti, WASP's founder, said: "WASP takes inspiration from the potter wasp. We build 3D-printed houses using earth found on the spot. The oldest material and state-of-the-art technology merge to give new hope to the world.
"GAIA, our first 3D-printed house made with raw earth, was born a year ago. Today, with our partners we are printing TECLA, an entire eco-sustainable habitat. The planet is asking for a joint project that we share with Mario Cucinella."
Mario Cucinella said: "Together with WASP we aim at developing an innovative 3D-printed prototype for a habitat that responds to the increasingly urgent climate revolution and the needs of changes dictated by community needs.
"We need a paradigm shift in the field of architecture that gets closer to the needs of people, thus finding an answer for the 'Earth' within the 'earth'. A collaboration that becomes the union between empathic architecture and the application of new technologies."