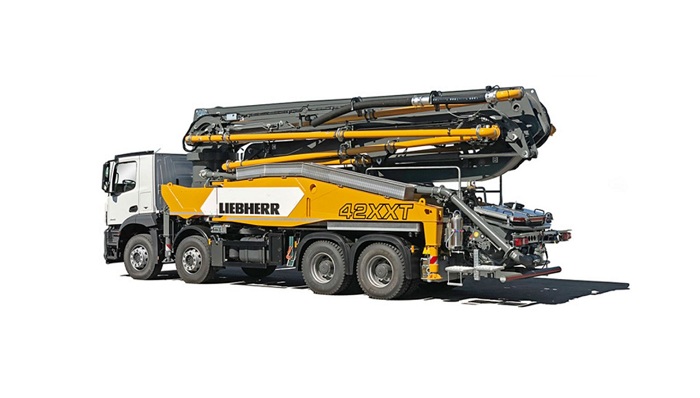 Liebherr is introducing a newly developed 42 M5 XXT truck-mounted concrete pump in addition to the new Powerbloc drive unit at World of Concrete 2020.
Equipped with the popular five piece multi-folding mast, the 42 M5 XXT has an unfolding height of under 28.2 feet and a vertical reach of 135 feet. The low unfolding height and great mobility of the pump give the machine great boom flexibility and support in a compact unit.
In addition, Liebherr's XXT outrigger support system offers versatility in setting up the pump. It is safe and stable in any position thanks to the direct load transfer. A redesigned rear end permits easy access to the pump for operation and maintenance.
Meanwhile, the Liebherr Powerbloc is the new drive unit for the pump system. With this new design, all hydraulic switching and measuring elements are completely integrated, which eliminates numerous hydraulic hoses and other parts. This is a one-of-a-kind drive unit in the concrete pump world, as the Powerbloc is powered by a semi-closed hydraulic circuit, which supplies all drives with hydraulic energy. As a result of this new design, the oil volume is significantly reduced.