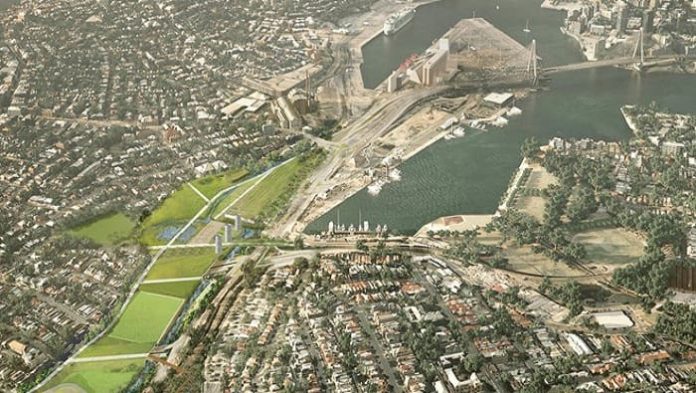 A joint venture between CIMIC Group subsidiary CPB Contractors and Australian engineering contractor John Holland has won a contract for the design and construction of the Rozelle Interchange and Iron Cove Link, the last stage of the M4-M5 Link WestConnex project in Australia.
The $3.9bn Rozelle Interchange contract includes an underground motorway junction and will transform the formerly unused rail yard site, deliver 10 hectares of new open space to the local community and improve access to public transport.
Under the contract, the joint venture will also take up works to enable connections to the proposed Western Harbour Tunnel and road upgrades around the Bays Precinct and Inner West.
The Western Harbour Tunnel enabling works are expected to benefit the community by reducing future construction requirements and disruption.
Minister for WestConnex Stuart Ayres said Roads and Maritime Services had undertaken a procurement process that will bring significant community benefits and ensure the final stage of WestConnex will be delivered by 2023.
Ayres said: "Today's announcement shows we are getting on with delivering major infrastructure to help address congestion in Sydney.
"This great result has been made possible through the highly collaborative tender approach, which allowed shortlisted parties and the government to truly innovate, share knowledge and leverage opportunities.
"The winning design solution will deliver 8,000 additional square metres of public open space than originally expected.
"The additional public space also delivers improved pedestrian connectivity to public transport including the light rail, and the future Sydney Metro West."
The M4-M5 Link is the final stage of WestConnex, linking the New M4 and New M5 motorways, providing seamless underground travel for tens of thousands of vehicles every day.
The Rozelle Interchange and Iron Cove Link is part of the M4-M5 Link, which will provide a new underground motorway interchange to City West Link and an underground bypass of Victoria Road between Iron Cove Bridge and Anzac Bridge.
This is the final WestConnex contract and the project remains within its A$16.8bn budget.
Construction on the Rozelle Interchange is expected to commence in mid-2019.