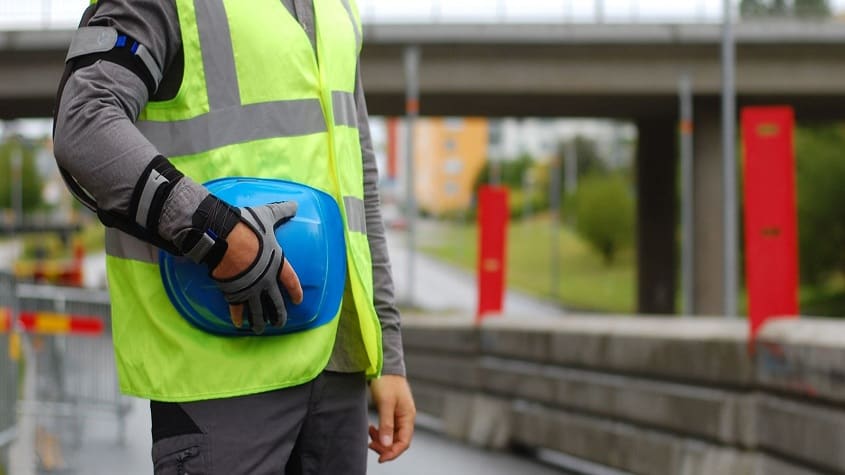 Bioservo Technologies AB has announced a R&D collaboration with the Infrastructure branch at Eiffage, one of Europe's leading construction and concessions companies. Eiffage will test one of Bioservo's innovative technologies to ensure it is suitable for the demanding construction sector.
Eiffage is impressed by the concept and possibilities offered by Bioservo's technology and has already placed its first minor order. "We are interested in researching how we can better look after the health of our staff. For us, Bioservo's SEM™ technology offers a wealth of opportunities. We are looking forward to this partnership as it will help to improve performance and well-being at work," says Erick Lemonnier, Prevention Director at Eiffage's Infrastructure branch.The long-term goal is to develop equipment suitable for the construction sector to reduce the impact of the physical pressures which certain tasks can create.
"We are delighted that Eiffage, has chosen to test our equipment. We will be able to obtain useful feedback on our products in the construction environment. It also proves that Bioservo is well aware of the accident prevention and safety challenges facing a company like Eiffage," adds Erik Landgren, CEO at Bioservo Technologies AB.
Bioservo is already working with General Motors and Airbus to develop a robotic glove for industrial use which can strengthen the human hand. The technology is well suited as a solution to avoid the musculoskeletal problems caused by repetitive tasks involving significant muscle contraction. The Bioservo glove concept gives workers extra strength and endurance to make their daily tasks easier and conserve energy.
About Bioservo Technologies AB
Bioservo Technologies is a technology and development company founded in 2006 in Stockholm by researchers from the Royal Institute of Technology and Medicine at Karolinska University Hospital. Bioservo Technologies therefore works with both medical science and modern robotics. As a world leader in its field, it develops flexible exoskeletons and portable equipment to provide extra strength and endurance for workers and people suffering from muscle weakness. After many years of research and development, Bioservo Technologies is now ready to market its products and patented technologies. Its gloves are aimed at rehabilitation in the health sector and medical care as well as risk prevention in industry. The start-up has signed strategic collaboration agreements with car manufacturer General Motors, NASA and aircraft manufacturer Airbus.
About Eiffage
Eiffage is one of the European leaders in public works and concessions and operates in construction, real estate and development, across civil engineering, metal, roads, energy and concessions. The Group draws on the experience of more than 63,000 staff and in 2016 turned over 14 billion euros, 20% of which was abroad.
Bioservo Technologies AB Press Contacts
Erik Landgren
CEO
Tel.: +46-(0)73-227-00-51
erik.landgren@bioservo.com
Anett Grusser-Pettersson
Associate Director of Marketing
Tel.: +46-(0)-70-795-34-81
anett.pettersson@bioservo.com
Eiffage Press Contact | Infrastructure Branch
Dominique Duchemin
Tel.: +33-1-71-59-17-10
dominique-marie.duchemin@eiffage.com