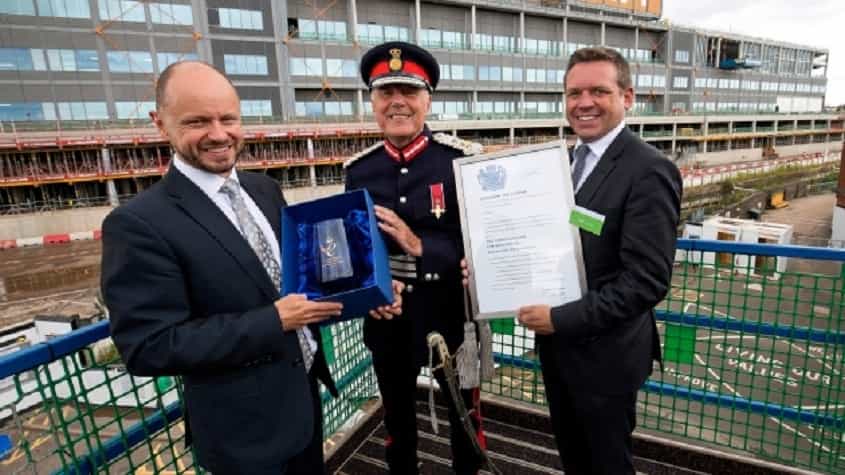 Carillion has been presented with the prestigious Queen's Award for Enterprise in recognition of its contribution to sustainable development.In April on her Majesty the Queen's 91st birthday, Carillion was named as one of 176 award winners, and just one of 11 recipients in the sustainable development category.
The Lord-Lieutenant of the West Midlands John Crabtree officially presented the award to Carillion at the Midlands Metropolitan Hospital, which is currently being constructed in Smethwick.Widely regarded as the most prestigious business award in the country, 2017 marks the 51st anniversary of the Queen's Awards scheme. Recipients have to demonstrate outstanding results in their respective fields of innovation, international trade or sustainable development. Carillion will now be able to use the esteemed Queen's Awards emblem for the next five years.
Carillion received the award for demonstrating its commitment to a balance across environmental, economic and social impacts, plus evidence of sector-leadership through its Sustainability 2020 strategy. Through detailed analysis of its relationships with employees, customers, suppliers and other external partners, Carillion was able to demonstrate a strong commercial case for sustainability, integrated with its core strategy, and a contribution to profitability through sustainable behaviours and actions.
Carillion Chief Safety and Sustainability Officer David Picton said: "Whilst it's a great honour to have won the Queen's Award, it's exceptional to have won it for sustainability. Carillion people have built up a long legacy of accredited evidence to show their commitment to responsible business, building trust and ethics, protecting the environment and changing lives through inspiring community engagements. Our clients ask us for this across our international operations, and they expect to work with a company which differentiates itself this way in tough and competitive markets. Investing in sustainability does matter, it does make a difference and this award recognises the long-term business benefits for that commitment from our people."