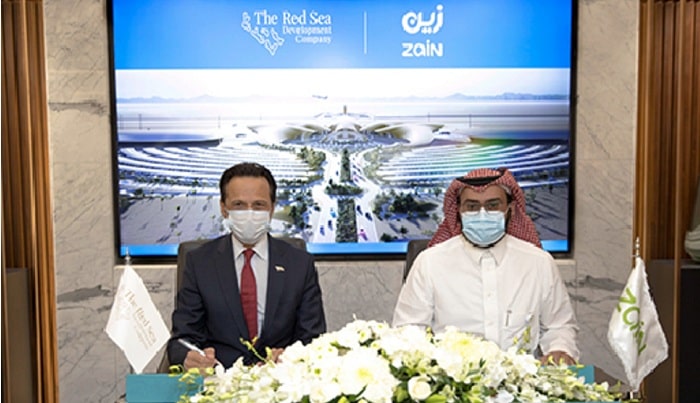 The Red Sea Development Company (TRSDC) has inked an agreement with Saudi Arabia-based telecom provider Zain KSA for introducing telecommunications and internet services on site during the construction phase.
Under the agreement, Zain KSA will ensure the coverage of these sites via its telecommunications and data network over a period of five years. With that, The Red Sea Project becomes the first construction zone to have 5G coverage in the Middle East.
Zain KSA's CEO Eng Sultan Bin Abdulaziz Al Deghaither said: "The Red Sea Project is one of the greatest and most significant luxury tourism investment projects and the most ambitious in the world. For that, we, at Zain KSA, take pride in supporting and enabling the project with our 5G network coverage, doubling down on our commitment to Saudi Vision 2030's approach in achieving nationwide digital transformation for a digitally advanced and more prosperous society.
Further, with this agreement, we add another strategic project to the list of major national projects and initiatives which the company was a main enabler for their success, from the NEOM Airport and the launch of the 'Welcome to the world' project for the Ministry of Tourism to launch tourist visas electronically, to our recent partnership with the Saudi Authority for Industrial Cities and Technology Zones (MODON) providing coverage for Dammam's second industrial city through Zain KSA's 5G network."
Eng Al Deghaither added, "Zain KSA continues to utilise all its investments, technical capabilities and human power, to contribute to the nationwide digital transformation development in the Kingdom, elevating its quality of life and accomplishing a quantum leap in all the productive and service sectors. This unfolds before our eyes through practical measures, such as the continuous geographical expansion of the 5G network which currently covers more than 50 cities through 4700 towers, with high quality and top speed."
The Red Sea Development Company's CEO, John Pagano said: "The Red Sea Project covers a vast area, almost the size of Belgium, and is based along Saudi Arabia's pristine, yet remote west coast. Fast and reliable communication services are therefore vital for us to ensure our workforce can contact colleagues on site quickly, as well as stay in touch with family and friends. On opening in 2022, telecommunications and internet will also play a key role in delivering a first-class experience for each of our guests.
Phase one of the project includes 16 hotels across five islands and two inland resorts, and will complete in 2023, along with the destination's international airport. TRSDC has hit significant milestones since launching the flagship project and remains on track to welcome the first guests by the end of 2022.
https://www.constructionweekonline.com/projects-and-tenders/270700-the-red-sea-project-becomes-middle-easts-first-5g-enabled-construction-zone