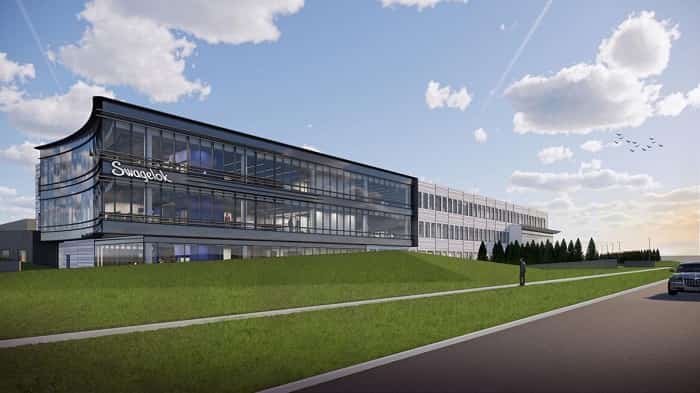 Swagelok Company, a global developer and manufacturer of fluid system solutions, announced that construction will begin on its new Global Headquarters and Innovation Center (GHQ) later this month. The new building, located at the site of the company's current headquarters in Solon, is 130,000 square feet and will house 250 current Swagelok associates, with room for workforce expansion as the business continues to grow.
"We are creating a campus that inspires innovation, productivity, collaboration and problem solving in support of our strategic growth plans," said William A. Canady, president and chief operating officer, Swagelok Company. "Our new headquarters building is an exciting next step on this journey. We look forward to bringing our associates, sales and service centers, customers and suppliers together to continue building a bright future for Swagelok."
Upon completion, which is planned for spring of 2021, the building will house several customer-facing functions including executive leadership, corporate engineering, continuous improvement, sales support, communications and marketing. It will feature new collaborative spaces for associates throughout and a Customer Welcome and Innovation Center on the first floor.
Swagelok is partnering with architecture and design firm Vocon on the external and interior design of the building. The three-story building will wrap around the existing manufacturing plant and will feature glass and metal profile panels on the external to reflect the company's long history of precision metal machining. Donley's Inc. will serve as the general contractor.
About Swagelok
Swagelok Company is an approximately $2 billion privately held developer of fluid system products, assemblies, and services for the oil and gas, chemical and petrochemical, semiconductor, and transportation industries. Headquartered in Solon, Ohio, U.S.A., Swagelok serves customers through 200 sales and service centers in 70 countries, supported by the expertise of 5,500 corporate associates at 20 manufacturing facilities and five global technology centers.