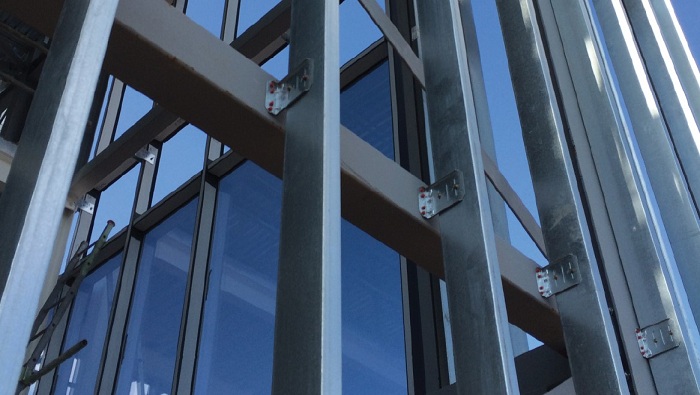 Simpson Strong-Tie is set to provide the steel frame construction industry with connectors and fixings with the release of their 2021 Connectors for Light Gauge Steel catalogue.
As the market grows from steel framing solutions and buildings built in an offsite environment, Simpson Strong-Tie's research continues at head office into their upcoming range of products that will 'revolutionise' the future of light gauge steel.
Light gauge steel (LGS) enables quick construction without the need for heavy tools or equipment. LGS systems offer a range of construction related benefits, with speed of construction, cost effectiveness and safety being the most notable.
Whether you are a manufacturer of LGS load-bearing structures or a manufacturer of light gauge steel facades, Simpson Strong-Tie can provide a suitable connection solution.
From steel joist connectors to oversail movement connectors, bridge connectors and ties, to chemical and mechanical anchor systems, our comprehensive range of products will ensure you make the right connection, when you need it.
The new catalogue features the ever popular TJC Jack Truss and Rafter Connector, an on-site adjustable angle bracket for connecting angled LGS sections, and the HTT5 Tension Ties, as well as the heavy-duty Quik Drive collated fastening system.

New product innovations include:
The LGSSC Splicing Clip, designed to connect the over–sail LGS studs to the primary structure in continuous walling installations.
The RCKW Parapet Wall Bracket, designed to resist an over-turning moment at the base of exterior knee-walls and parapets as well as interior partial height walls.
X1214 screws have a #3 drill point capable of drilling through 5mm steel and suitable for 450 grade hardened steel.
X1224 screws have #5 drill point capable of drilling through 12.5mm steel and suitable for fixing to hot rolled steel sections.
Solving structural problems
Sales manager, Keith Lister, said: "Our range of ergonomically designed connectors can assist on-site installation and ensure projects are completed on time and to your specification.
"Whether you need products or design, solving your structural problems is our passion, and the 2021 LGS connectors catalogue makes it easy to find information and project solutions quickly.
"You also have the reassurance of knowing that you are specifying a tested product, whether it be a hold down, anchored to the foundation, or an adjustable angle bracket connecting to the light gauge steel, our dedicated technical support team are available daily to help you select your connector and the fixing solution."