Kuwait's Sheikh Jaber Al Ahmad Cultural Centre(JACC) has won Cultural & Heritage Project of the Year at the 2018 MEED Projects Awards in association with Mashreq held on 2May at the Westin Mina Seyahi Dubai, UAE.
The titanium-clad cultural centre won against worthy and world-class competition, such as the sprawling Sultan Qaboos Youth Complex for Culture & Recreation, in Oman, and the famous Dubai Opera complex in the UAE, among others.
The MEED Projects Awards not only recognise the construction element of project delivery, but also consider the value and quality of a project throughout its entire life cycle.
MEED announced JACC as Cultural & Heritage Project National Winner for Kuwait in March, which meant its entry advanced to the finals for the chance to become GCC winner in its category at the gala ceremony last night.
SSH was appointed by design and build contractor, Al Hani Construction & Trading Company, as lead architecture and engineering designer on the four-building complex.
Since opening in 2016, JACC has received several architectural and design awards. The complex is a focal attraction for various performing arts and cultural events, and hosts numerous local and international acts. Together, with the recently opened Sheikh Abdullah Al Ahmad Cultural Centre(ASCC), and recently restored Al Salam Palace, both also SSH projects, JACC forms part of Kuwait City's new national cultural district.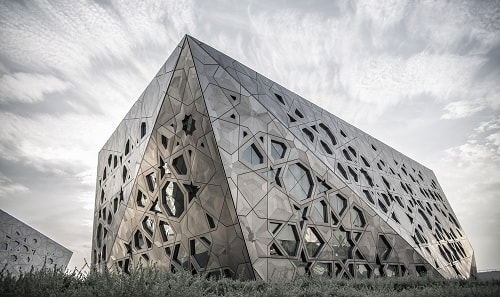 The complex'smain buildings are the Theatre Centre, Music Centre, Conference Centre and National Library for Historical Documents, all set within a new national park. Designed to resemble a set of jewels, JACC is the centrepieceattraction of the country's cultural quarter.
A combined team of Kuwait's Amiri Diwan, client of the centre, and SSH collected the award on stage at the gala ceremony.
"The Amiri Diwan and SSH are bothextremely proud that the Sheikh Jaber Al Ahmad Cultural Centre has been awarded this prestigious honour by MEED," said Sadoon Al Essa, Executive Partner of SSH, who attended the event. "The Amiri Diwan's mission has been to elevate culture and heritage within Kuwait and the wider MENA region, and I believe this has been successfully achieved. This latest award further validates the vision of the Amiri Diwan, JACC's place as regional and international cultural destination, and SSH's architectural and engineering pedigree. We are all very happy."
JACC was also named Best Cultural Design Project at the recent Index Architecture & Design Awards, and won several regional and international awards in 2017.
SSH is one of the leading master planning, infrastructure, building design and construction supervision firms in the Middle East, with a reputation for design integrity and a portfolio that includes landmark projects throughout the region. The firm maintains offices in Abu Dhabi, Algeria, Bahrain, Dubai, Iraq, Kuwait, London, Oman, Qatar, Saudi Arabia and South Africa.
Founded in 1961, we employ approximately 1,400 high-calibre local, regional and international experts in their individual fields, most of whom are from globally renowned international consultancy firms. We ranked 3rd architecture company in the Middle East among the top 100 Architects in the world and number 1 design firm in the cultural sector in the world by World Architecture Magazine in 2015 and 2016.
We were also ranked in 95th place among ENR's Top 225 International Design Firms for 2017.
SSH's multifaceted practices include architecture, urban design and planning, landscape architecture, structural and civil engineering, MEP/building services, interior design, highway and bridge engineering, stormwater drainage, utility design, sanitary engineering, marine engineering and district cooling, in addition to high-profile project management and construction supervision services.