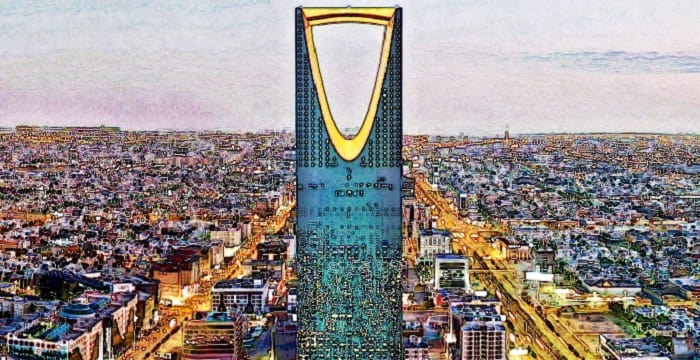 Every year 23 September marks Saudi Arabia's National Day and this year the kingdom is celebrating its 90th, since the renaming of the Kingdom of Nejd and Hejaz to the Kingdom of Saudi Arabia following a royal decree issued by late King Abdul Aziz Ibn Saud in 1932.
Supported by its Vision 2030, — approved by The Cabinet on 25 April 2016 — Saudi Arabia has seen a wave of transformation that has been strongly followed by the kingdom's construction sector, thanks to the advent of multi-million and multi-billion dollar mega and gigaprojects.
From entertainment to tourism, mobility and transport to utilities and energy, the kingdom is leaving no stone unturned to achieve its Vision 2030 roadmap that also aims at reducing the nation's reliance on oil-based revenues.
While Construction Week wishes the kingdom on this occasion, here is list of 10 projects that are currently under construction and are set to drive change in the nation, create hundreds and thousands of jobs, and boost economic development.
Please note this is not a ranking or a list.
The Red Sea Project
Saudi Arabia's HRH Crown Prince Mohammed bin Salman bin Abdulaziz Al Saud-led Public Investment Fund's (PIF) The Red Sea Development Company (TRSDC) is developing the 28,000km2 The Red Sea Project, which is located between the cities of Umluj and Al-Wajh.
Construction is progressing on the gigaproject, with the most recent update being the completion of the first kilometre of road of the coastal and inland road network that is constructed by Saudi Arabian Real Estate Infrastructure Company (Binyah).
The project covers designing and building 77km of roads, including a 10km-long highway, a 13km airport access road, interconnecting roads within the project, in addition to an access road to the bridge connecting the main hub island.
In June 2020, the developer awarded a contract for the provision of medical services during the initial construction phase of the project. The contract was awarded following a competitive tendering process to International SOS to provide all medical services across the development.
Led by CEO John Pagano, TRSDC earlier this year also identified the location across four islands for its overwater assets. The overwater assets include, villas, restaurants, and hotel arrival points for two hyper-luxury hotels, and one luxury each on Sheybarah South and Ummahat Al Shaykh islands.
NEOM
The $500bn (SAR1.9tn) NEOM is considered as the centrepiece of Saudi Arabia's gigaproject ecosystem and the Vision 2030 economic diversification programme.
In July 2019, Phase 1 of the project had been completed, CEO of the project, Nadhmi Al-Nasr has announced.
Most recently, New York Stock Exchange-listed infrastructure consulting firm AECOM was appointed to design transport and utilities infrastructure for NEOM. The scope includes environmental and geotechnical support.
Last year, AECOM was appointed to provide project management consultancy (PMC) services for Phase 1 construction activities.
Interestingly, the NEOM gigaproject will be equipped with 5G infrastructure. NEOM signed a one-year contract with stc group to establish a 5G network infrastructure and an innovation centre as part of its plans to accelerate its digital ambitions.
NEOM's chief projects officer, Brett Smythe, is all set to speak at Construction Week's Leaders in Construction KSA Summit 2020 at the "Looking at Saudi Arabia's gigaprojects" panel on 29 September.
Qiddiya
The 366km2 Qiddiya — "capital of entertainment, sports, and the arts" —gigaproject is being developed by the Qiddiya Investment Company (QIC), which is chaired by Crown Prince HRH Mohammed bin Salman bin Abdulaziz Al Saud and backed by the kingdom's sovereign Public Investment Fund (PIF).
Despite the global outbreak of COVID-19, construction has been progressing on schedule at the gigaproject, CEO of Qiddiya Michael Reininger, told Construction Week earlier this year.
Sustainability lies in the heart of the gigaproject, beginning from the design and planning stages through to execution and construction.
In May 2020, QIC inked a five-year framework agreement with Detecon Al Saudia Co. Ltd. (DETASAD).
The scope of the agreement comprises a fully integrated system delivered by DETASAD, which includes all requirements and operation of the company's IT infrastructure, managing ICT hardware, as well as providing hybrid cloud, connectivity, and manpower for Qiddiya's resources.
July saw QIC award a $190m (SAR 700m) contract for the construction of its major road and bridges to local contractor Shibh Al-Jazira Contracting Co (SAJCO). Scheduled to be completed by May 2023, the contract will involve building works on 45km of roads and seven bridges.
AMAALA
AMAALA was unveiled by the nation's in September 2018. Located on Saudi Arabia's northwestern coast, AMAALA is led by CEO Nicholas Naples.
The gigaproject is currently in Phase 1 of development that covers 4,155km2 of unspoilt terrain across land and sea. In December 2019, AMAALA was incorporated as a standalone company.
Referred to as the Riviera of the Middle East, once developed, AMAALA will include, 2,500 hotel rooms, and more than 800 residential villas, apartments, and estate homes, in addition to 200 fashion and retail brands.
2020 saw several contracts being awarded for the project. This the appointment of international architectural firm Denniston as the master planners for The Island. Denniston's French-Belgian architect Jean-Michel Gathy will lead the design of AMAALA's 'The Island' community.
Following this, HKS Architects was picked as the master planner for Triple Bay and The Coastal Development. Later in June, Binyah, and Parsons' KSA division won contracts at Phase 1 of its Triple Bay masterplan.
Binyah will carry out the excavation, backfilling, and earthworks required to achieve the formation levels and grading of the Triple Bay masterplan.
It also unveiled plans for a new international airport, with a design inspired by the optical illusion of a desert mirage.
The terminal and control tower design was conceptualised by UK-based architectural and design firm Foster + Partners, while the airport master plan was designed by international consultancy and engineering group Egis.
Diriyah Gate
Another project that is shaping the kingdom's built environment is Diriyah Gate, developed by Diriyah Gate Development Authority (DGDA). The project aims to restore the 15th century city of Diriyah that was established on the banks of Wadi Hanifah in 1446 AD and became the capital of the first Saudi state in 1744 AD.
Foundation stone on the $17.1bn (SAR64bn) project was laid in November 2019 in the presence of the Custodian of Two Holy Mosques King Salman bin Abdulaziz Al Saud.
Upon completion, the 7km2 project will comprise 20 luxury hospital brands, including Aman Resorts, five iconic squares, a 15,000-seat arena, and a Formula-E racetrack.
In July, chief design and development officer, Jonathan Timms told Construction Week, that the public can expect to see Diriyah Gate's "first glimpse" by February 2021.
"Towards the end of the year and before February next year, we will be re-doing the streetscape and you'll see that this will be new to Saudi Arabia," Timms told CW. "It will be a walkable city. It will be beautiful and shaded. This will be the first glimpse in early 2021 of some of the amenities that is coming to the community."
Located 1,100km from Riyadh in north-west Saudi Arabia, covers approximately 23,000km², includes a lush oasis valley, sandstone mountains, and ancient cultural heritage sites dating back thousands of years.
The Royal Commission for AlUla (RCU) was established by royal decree to preserve and develop AlUla, a region of outstanding natural and cultural significance in North-West Saudi Arabia.
Last year, RCU partnered with hotel and resort brand Aman to develop, design and manage its first three properties in AlUla. A technical services agreement was inked between Saudi Arabia's Minister of Culture and the Governor of the Royal Commission for AlUla, HH Prince Badr bin Abdullah bin Mohammad bin Farhan Al Saud, and chairman and chief executive officer of Aman, Vladislav Doronin.
Aman will develop three resorts, which will include a tented camp, a resort near AlUla's heritage areas, and a desert ranch-style resort. Detailed design work is set to begin imminently, and the hotel operator is projecting it will welcome the resorts' first guests in 2023.
In July 2020, RCU revealed that Phase 2 of the airport expansion has been completed.
Phase 2 comprised the renovation of the airport's main terminal building and the expansion of the apron to add six Code C and larger 4 Code E Aircraft Stands, as well as an additional 150,000m2 of taxiways with two additional connections to the runway.
The project was carried out in collaboration with the General Authority of Civil Aviation (GACA).
Riyadh Metro
In terms of mobility and transport, the $23bn (SAR86.3bn) Riyadh Metro is touted as one of the most significant construction projects in the kingdom.
An infrastructure megaproject, Riyadh Metro is set to transform the way people travel in Saudi Arabia's capital city.
Upon completion, the rail network will be able to accommodate 400,000 passengers. In February 2019, the final set of 69 trainsets were shipped by Alstom from its plant in Katowice, Poland, for Lines 4-6 of the metro network.
Riyadh Development Authority (RDA) — earlier referred to as High Commission for the Development of Arriyadh — is the developer of Riyadh Metro, which is one of its biggest projects, with 85 metro stations and 176km of tracks.
King Abdullah Financial District (KAFD) station is one of the four main stations of Riyadh Metro. Touted to be the biggest elevated metro transfer station in the world at 32m high, 42m wide, and 232m long, it is raising the bar for architectural design and engineering.
Designed by Zaha Hadid Architects, KAFD station features a complex geometric façade designed to resemble sine-waves.
Jeddah Metro
Jeddah Metro is being developed by Metro Jeddah Company (MJC) that was set up as the developer and asset owner of the Jeddah Public Transportation Program (JPTP).
Phase 1 of Jeddah Metro will link the King Abdulaziz International Airport with the Prince Abdullah Al-Faisal Stadium, central Al-Ruwais and Al-Khozam.
The metro network will comprise 74 stations, 160km of track and four individual routes through the city and bring hundreds of thousands of people within a ten-minute walk of a transport hub.
Concept design of Jeddah Metro was presented by Foster + Partners, who is also acting as the lighting, structural, and environmental engineer.
Jeddah Tower.
At an estimated height of 1km, Jeddah Tower, once completed will take over Dubai's Burj Khalifa as the tallest building in the world.
Developed by Kingdom Holding Co's unit, Jeddah Economic City, the 200-floor-plus building will feature more than 750 residential units, hotel keys, and serviced apartments, in addition to 3,190 parking spots and close to 60 elevators.
Adrien Smith + Gordon Gill Architecture has designed the tower, which covers a floor area of 243,866m2.
Jabal Omar Development
Developed by Jabal Omar Development Company (JODC), Jabal Omar is a 40ha development with a budget of $4.3bn (SAR16bn).
Earlier, this year In light of the global spread of COVID-19, JODC had temporarily suspended all development work at the Jabal Omar project in the kingdom.
The company said in a stock market filing at that time that its main activities have also been affected "due to the significant decrease in occupancy rates in its hotels and the temporary closure of its commercial centres in the Jabal Omar project".
The Jabal Omar project includes the construction of a twin-tower hotel, dedicated prayer areas, a seven-star facility and multiple further hotel towers. In total, there will be 40 towers across a built-up area of approximately two million square metres.
King Salman Energy Park (SPARK)
Construction is progressing rapidly on Saudi Arabia's 50km2 megaproject, King Salman Energy Park (SPARK), which in July 2019 revealed that Phase 1 construction was 60% complete.
Scheduled to be completed by 2021, the $1.6bn project consists of infrastructure, roads, utilities, and real estate assets established across 14km2, in addition to a 3km2 logistics zone and dry port.
Upon completion, the developer said that it will add $5.8bn annually to the kingdom's gross domestic product by 2035, while creating thousands of job opportunities.