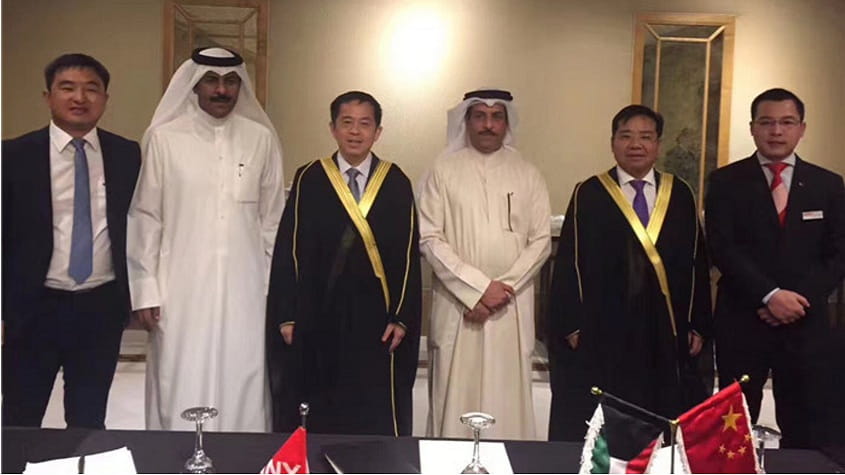 SANY Heavy Industry signed a USD 86 million purchasing agreement with a Kuwaiti engineering construction contractor on November 15, which is SANY's largest international order in Middle East market so far.
SANY will provide a full range of its products to its Kuwaiti customer, including more than 600 truck cranes, excavators and rotary drilling rigs. Xiang Wenbo, president of SANY Heavy Industry and Zhou Wanchun, Chairman of SANY International Headquarters, attended the signing ceremony.
The 600 machines will be used in Kuwait's national infrastructure projects, which are expected to great promote the implementation of "Belt and Road Initiative" in Middle East. "SANY has always regarded product quality and service as its core competitiveness in the overseas markets," Xiang said that SANY developed specific products to suit the tough working conditions in the Middle East. SANY invested heavily to build the perfect marketing service network, establishing SANY's unique service advantage in Kuwait and laying a solid foundation for the greater development of SANY in the Middle East.
Since its first entry into the Middle East market in 2006, SANY's machines have participated in a number of mega projects' construction, including Burj Khalifa Tower, Jazan Economic City in Saudi Arabia and the world's largest airport–King Abdulaziz International Airport. SANY has gained high appraisal in Middle East market by its quality products' excellent construction performances and perfect service system.
The USD 86 million order displays the trust confided in SANY and its product quality.
The Middle East market has always been a focus of the fierce competition of global construction machinery manufacturers. In recent years, SANY has made great achievements in the Middle East market. This order not only marks SANY's further participation in "Belt and Road" construction, but also is a historic step towards SANY's ambitious goal of "contributing a world-class brand to China".
For more details,
please call: 86-0731-84038018 
visit our official website: http://www.sanyglobal.com/