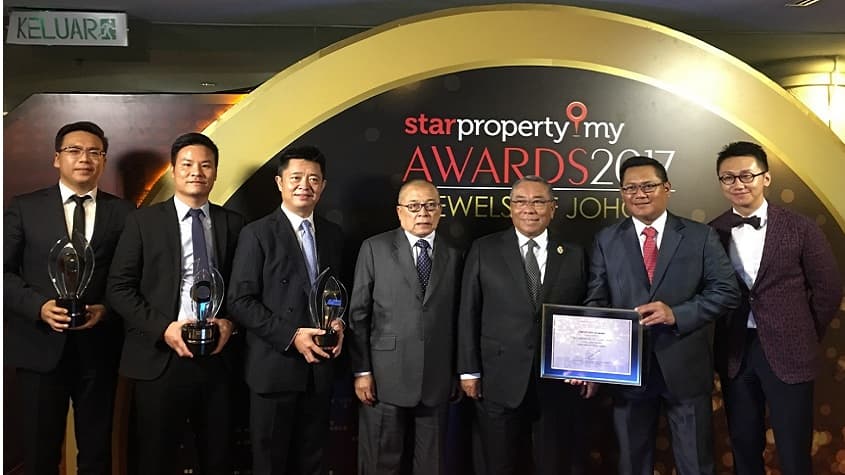 Chinese property developer Country Garden Holdings triumphed over competitors to receive several prestigious awards at 2017 StarProperty.myAwards: Jewels of Johor Awards ceremony held at the Thistle Hotel in Johor state, Malaysia on November 24, 2017.
The awards ceremony was designed to recognize the most outstanding real estate developments and developers in Johor state, Malaysia. The event was graced by the presence of the Sultan of Johor, Sultan Ibrahim Ibni Almarhum Sultan Iskandar, who was accompanied by Johor Menteri Besar Datuk Seri Khaled Nordin, Tourism, Trade and Consumer Affairs of Johor State chairman YB Datuk Tee Siew Kiong, and State Housing and Local Government Committee of Johor State chairman Datuk Md Jais Sarday. The judging panel was made up of several dozen of Malaysia's leading business executives. Since expanding into Malaysia, Country Garden has received a number of coveted industry awards for its real estate projects there. The new awards again demonstrated the Chinese property developer's strength and influence.
Country Garden Danga Bay won two prestigious awards, The Best Waterfront Development and The Best Quality & Finishing Developments. Forest City, a mega project which is also a harbinger of what we can expect from a living space in the future, also received The Best Sustainable Developments award. Country Garden Central Park, which was opened less than a year ago, was honored with The Best Family-Centric Developments award.
Leading property developer focuses on creativity
The fact that Country Garden Danga Bay out-rivaled counterparts in Malaysia to win two awards reconfirmed the success of Country Garden's first real estate development project outside of its home market in China. The project took four years to complete, and established the Chinese developer's steady and firm footprint in the country. With a unique location, complete commercial and living facilities, the outstanding building techniques applied during the construction process in tandem with the beautiful sand beaches and landscaped gardens, Danga Bay has become a symbol of excellence for the industry. As completed components of the project have been delivered to their owners, Danga Bay has recorded strong sales figures on the back of the unrivaled advantages provided to the buyers while meeting the commitment of providing new homeowners with a five-star rated abode.
In addition, Country Garden Danga Bay was the recipient of awards including The International Quality Crown Award Gold Category London, iProperty.com People's Choice Award for Most Popular Malaysia Property, Asia-Pacific Property Awards for Best Commercial Landscape Architecture, Malaysia and Highly Commended Leisure Development, Malaysia, Malaysia Landscape Architecture Award, and International Diamond Prize for Excellence In Quality, helping the project become one of the most attention-drawing properties in Singapore and Malaysia.
Forest City, winner of The Best Sustainable Developments award, also received several international awards since its launch, thanks to the firm's unique concept in terms of integrated planning and the speed at which the construction of support facilities was completed. Forest City was the recipient of awards including the Boston Society of Landscape Architect Award, Frost & Sullivan's Asia Pacific Property Development New Product Innovation Award for 2016, pre-certification at gold level under LEED-CS by USGBC, the Global Human Settlements Award on Planning and Design, MIPIM Asia's Best Future Mega Project Gold Award for 2016, Asia Pacific Property Award Mixed-Use Development Malaysia and Asia Pacific Property Award Architecture Multiple Residence Malaysia, becoming a model to emulate in terms of planning a future city.
Country Garden Central Park, a new star in the Malaysian real estate market and the best of its class in Johor Bahru, boasts ultra-spacious private gardens and is the region's sole development to build a community that has adopted a lifestyle based around a park with extensive greenery and an environmentally responsible approach to all of the community's actions and efforts. In addition to beautiful natural scenes including a centrally located lake, the developer has laid out separate zones exclusively for walking, running and football. The project aims to provide the most sought-after yet affordable residential units to meet the expectations of the local population.
Steady commitment assures rosy prospects
As a leading integrated real estate developer in China, Country Garden has served more than 3 million property owners with over 900 high-quality real estate projects worldwide. In addition to China, the real estate developer has established a presence in Australia, Indonesia and Malaysia as well as in other markets. In 2017, the company entered the pantheon of the Forbes 300 and the Fortune Global 500.
During a five-year period of overseas expansion, Country Garden has continued to evolve by rolling out Danga Bay, paving the way for the firm to stand out among competitors, Diamond City, which redefines the villa lifestyle, Forest City, which has become a coveted model for future city planning, and Central Park, which focuses on the best that community life can offer. Each employee at Country Garden is committed to best of class products and services by continuing to uphold craftsmanship. Looking forward, prospects for the company in both development in its home market of China and in its plans for international expansion remain promising and encouraging.