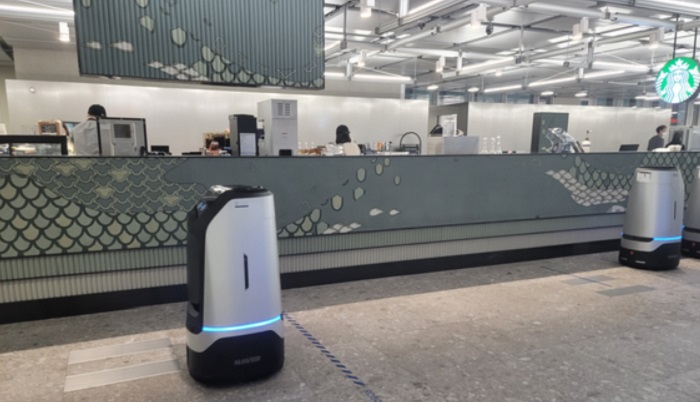 Representatives from Korean IT giant Naver are accompanying the land minister on a trip to Saudi Arabia this week to pitch not only its staple internet and cloud services, but also a whole building filled with its latest technology.
As the IT company aims to bid for a $500 billion city development project in Saudi Arabia, its new office building — named Naver 1784 — is now doubling as a technology showroom.
Naver is one of the companies accompanying Minister of Land, Infrastructure and Transport Won Hee-ryong's trip to Saudi Arabia, seeking to participate in the Middle Eastern country's massive NEOM smart city project. The delegation departed on Friday and will return on Nov. 9.
Chae Seon-ju, head of environment, social and governance (ESG) at Naver, will lead the team on the trip to Saudi Arabia, where Naver intends to pitch its smart building technology used in the Naver 1784 building.
"We are entering the business of selling the whole set-up and technologies as a platform to corporate clients," said a Naver spokesperson. "The trip to Saudi Arabia is also part of the sales activity to promote our smart building technologies along with our artificial intelligence [AI], cloud and robots."
Completed early this year in Seongnam, Gyeonggi, the Naver 1784 building is situated next to the Naver Green Factory headquarters building and is packed with cutting-edge technology, from robotics to cloud computing.
Big names from home and abroad — including SK Inc. Chairman Chey Tae-won and Victoria Nuland, U.S. undersecretary of state for political affairs — have paid visits to the building, and "the giant testbed" is now serving as a pillar of the company's global expansion strategy as well.
When Naver first began to eye the global market, commerce was its first option, as the company runs a massive online marketplace that reached an annual trading volume of 28 trillion won ($19.7 billion) in Korea last year.
In October last year, Naver made inroads into Japan's e-commerce market with MySmartStore, an online marketplace, leveraging its 89-million-user Line messenger app.
Along with e-commerce, business-to-business services — such as chatbots, identity verification and call automation — are part of the company's global expansion plan, led by Naver Cloud, a cloud service subsidiary of Naver.
With NEOM city reported to be filled with all things tech ranging from robotics, cloud and automated systems, the trip may offer the jump-start Naver needs to accelerate its global business-to-business project.
Naver 1784, in that sense, is the company's portfolio in a big glass nutshell.
Naver 1784 was named after its address — 178-4 Jeongja-dong, Bundang, Gyeonggi — as well as the year when the Industrial Revolution began. Certified as Korea's first "robot-friendly" building by the Smart City Association, the building uses more than 316 patent technologies, according to Naver.
What catches visitors' eyes the most when entering the building is the robots roaming around the place.
Standing at about 3.6-feet-tall, delivery robots named Rookie are powered by a private 5G network and connected to cloud system ARC, which acts as a shared brain. About 60 Rookies are already hard at work in the building, delivering everything from the mail to a morning cup of coffee to employees in the building.
Rookie waits for robot elevators when it needs to move between floors, detects passersby to avoid crashing and plugs itself in to a charging spot if it runs out of battery.
When a Rookie needs maintenance, Ambidex, a robot with two arms, sorts it out. Robots are not the only thing working in Naver 1784. The company's human staff also enjoy a seamless work experience, entering the building and accessing everything from the in-house hospital to the cafeteria and convenience store using facial recognition powered by Naver Clova.
Rookie also accesses the same system to ensure that cup of coffee has ended up in the correct human hands. Employees can also use smartphone apps to control the temperature, light settings and air condition in meeting rooms. A voice-recognition speaker will soon be added to meeting rooms as well, allowing employees to automatically generate minutes and distribute them among participants without anybody involved having to pick up a pen.
Samsung C&T constructed the building and Samsung Electronics supplied the main equipment for the 5G system. Hyundai Movex, Hyundai Elevator's subsidiary, developed the robot-only elevator, and LG Energy Solution supplied the batteries and charging systems for the Rookie robots.
If Naver is successful in its bid to supply the same smart building setup to the NEOM city project, the companies that participated in the Naver 1784 project are likely to take part as well.
Naver also plans to use its second data center in Sejong as a testbed for robotics and autonomous driving technologies, when it is completed next year. Self-driving shuttle buses and server-managing robots will also be used.