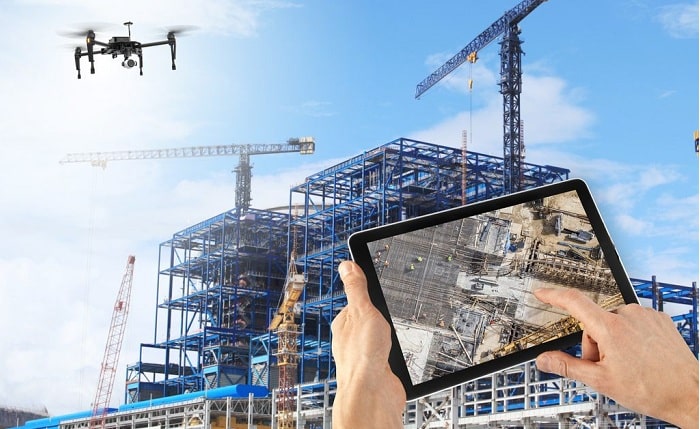 What do cement mixer trucks, nail guns, hydraulic excavators, or pickup trucks all have in common? Aside from being pieces of construction technology commonly found on construction sites, they also did not exist a century ago.
So, can you imagine today's construction job sites without these power tools and equipment? Without them, workers have to dig trenches and excavate sites with pickaxes and shovels or drill holes and cut boards by hand. It is safe to say that technology has changed and continuously changed the construction industry.
Technology touches almost all aspects of construction operations, and here are some of the changes it brought to the industry:
Jobsite Transformation 
If you go back to 100 years ago, you can say that technology had revolutionized the job site big time. For example, drones were adopted by many construction companies as they allow precise surveying, whether from nearby or remote locations. 
Mobile devices alongside drones make tracking materials easier and determine how much you should order. In return, you can reduce material waste while saving cash.
The latest technology in construction allows job sites to be more interconnected compared to years ago. For example, if sites are short on materials, they can quickly check in with others. Job sites can also update their clients on the project's progress and when it can be completed with ease.
New Materials and Methods 
The materials used in the construction industry are one of the most obvious areas of change due to technological advances. Latest technologies allow construction companies to use more eco-friendly materials and carbon fiber with incredible strength and even take advantage of concrete recycling.
Technology tools also change how the industry works with those materials. For example, 3D printers are now the latest trend, while prefabrication seems to be old technology. Many construction companies prefer printing whole buildings in 3D. Once printed, they are transferred to the Jobsite and assembled.
Safer Jobsite 
Technological advances helped make job sites safer for everyone. Mobile devices and drones allow you to monitor the job site even remotely. These tech tools enable workers to report hazards and progress sooner. If issues arise, they also enable you to deliver instructions on dealing with and solving them efficiently.
You can give your employees warnings instantly and keep them safe with the help of technology. Wearable tech is now available. For example, augmented reality (AR) capabilities and special lenders provide early hazard warnings.
Wearable tech will also help you keep track of how much time each of your workers has spent on the job site. Remember that tired workers are less productive and can make errors that lead to accidents or injury. So, breaks and rests are critical.
Predictive Analytics and Machine Learning 
Artificial intelligence (AI) advancements allow construction companies to use driverless vehicles potentially. While no company has already adopted this technology, it is likely to replace drivers sooner.
AI requires vast amounts of data, and you can make it available for the company analytics. The collected utility data helps you figure out what is most likely to happen with predictive analytics. For example, AI may help predict the perfect time to order materials or determine issues around the job site.
The combination of machine learning and predictive analytics can help construction companies market more efficiently. They can also help design better schedules for workers and improve overall safety at the working site.
Improved Office Organization
As mentioned above, predictive analytics can help you design and create better schedules for workers. Other than that, technology can also help in your office. 
Advances in technology can make operations in the construction office a lot easier, whether you need to organize paperwork or monitor your OSHA rules compliance.
Smarter Construction Projects 
Technology makes construction projects smarter. More and more construction companies invest in smart buildings or smart roads. 
Building information modeling (BIM) is a huge part of this advancement, and it enables you to generate the building's digital representation. From there, you can track the building's functions and physical characteristics.
The data you get from BIM will help you make better options when it comes to fittings and materials. Aside from helping you with the initial building construction, BIM data also informs you about maintenance schedules once the project is completed. In return, you can keep construction projects on budget, from start to finish.
Latest Simulated Realities 
New technologies in the construction industry involve augmented and virtual realities. With virtual reality, you can easily see how technology changes the industry. 
For example, you no longer have to present 2D or 3D models and drawings to your prospective clients. Instead, you can give them an immersive VR experience. VR will also help you improve your planning and design for construction projects. When having an amusement park, zoo, school, or commercial building project, you can easily envision the planning's unique challenges.
As for augmented reality, this technology is more useful in the job site itself. When it is combined with wearable tech, workers can work smarter and avoid hazards. It also helps workers to perform tasks more accurately.
Software and Mobile Apps 
Many software and mobile apps were designed to help construction companies manage their operations and projects. They help streamline the process as well as improve productivity within the job site, including scheduling, preconstruction, field reporting, project management, and back-office management.
Cloud-based software solutions allow real-time updates and changes to schedules, documents, and other management tools. As a result, there is better collaboration and communication throughout the projects and job sites.
With mobile technology, collecting and transmitting data are done in real-time between project managers and job sites. You can use cloud-based solutions to allow on-site workers to submit work records, requests for information, expense reports, and timecards. That way, you can save significant hours every year with regard to data entry. It also enables you to automate the organizing of critical files. 
Conclusion 
Overall, technology in the construction industry continuously revolutionizes almost all aspects of operations. Adopting tech tools and equipment dedicated to construction will help you reap benefits from industry growth. From streamlining processes to improving communication and collaboration, technology makes a huge difference in the industry.