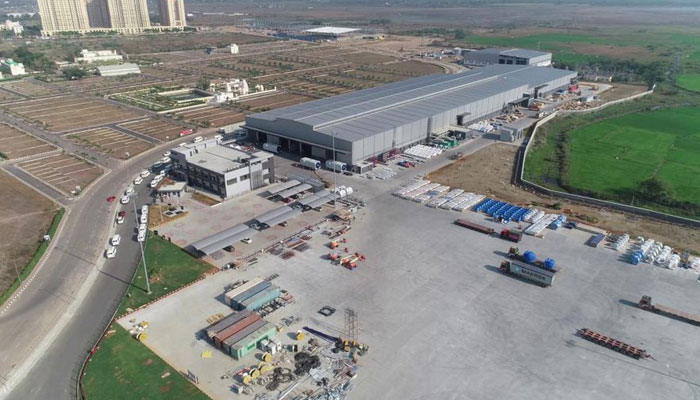 World Construction Today – US-based Panattoni will spend $200 million to create four industrial and logistics parks in India to address the increased need for storage space in key cities.
With its launch into India, Panattoni, a world leader in industrial and logistic property development, has made its debut in the Asian market. Bengaluru is home to Panattoni India Development Pvt. Ltd. Managing Director India, Panattoni, Sandeep Chanda, sounded optimistic about the industrial and logistics sectors of Indian real estate's long-term growth as demand for premium premises grows from the manufacturing, e-commerce, and third-party logistics sectors.
The company is in talks with landowners to buy 250 acres across Delhi-NCR, Chennai, Mumbai, Bengaluru, Hyderabad, and Pune for the first phase of its India effort.
They will invest USD 200 million (about Rs 1,597 crore) in the construction of the first four industrial and logistics parks, which would total 6.5-7 lakh square feet of rentable space. The expected investments cover land, building, and other expenses. To build on these four initiatives, Chanda stated that the company would also enlist the help of international institutional investors.
The finance will be raised to the level of the special purpose vehicle (SPV), which will be established uniquely for the creation of each project. When asked what size of property would be ideal for the creation of logistics parks, Sandeep responded that any size between 50 and 100 acres would be ideal.
The firm is open to creating modest 25-acre parks, though.
In the projects, 75–80% of the space will be set aside for warehouses, while the remaining space will be used to develop industries, according to Chanda, who was formerly head of strategy and acquisitions at Embassy Industrial Parks. The company will follow its global plan and discontinue each project after tenant leasing.
The CEO and co-owner of Panattoni Europe and India, Robert Dobrzycki, emphasised that the international company has made a name for itself as a significant industrial and logistics developer of real estate in North America and Europe. In the upcoming years, Robert asserted, they see no reason why the institutionalisation and dramatic rise of the industrial and logistical markets in North America and Europe cannot be replicated in Panattoni's Indian bridgehead and even beyond into other Asian countries, and on a faster, wider scale.
The company will make it easier for investors to access these assets and will help India's economy and employment to grow sustainably.
According to Panatonni, India's ambition of becoming a manufacturing powerhouse will fuel demand, as international firms seek to minimise their dependency on China and its distribution networks. E-commerce growth in India is also fuelling warehousing demand.
Since 2013, they have been creating an average of 35 million square feet annually around the world over the past nine to ten years. India rented 27-28 million square feet last year. Therefore, that is the size at which they work, Chanda stated. Panattoni will introduce the most modern design and building technology to India.
According to Chanda, the strong core demand for contemporary, environmentally friendly industrial and logistics real estate they are seeing from domestic Indian enterprises will be supplemented by their access to global institutional funding and a wide international occupier network. The underlying driving factors that India progressively shares with its counterparts in the U.S. and Europe include increased supply chain efficiency, quick e-commerce expansion, and convergence among third-party logistics companies, he added.
One of the biggest industrial real estate developers in the world is the Panattoni Group, which includes Panattoni India Development Pvt. Ltd. It makes investments worth about 8 billion euros annually on average. Panattoni has 46 offices in the U.S., Canada, Europe, and Asia and has built 544 million square feet for 2,500 clients.