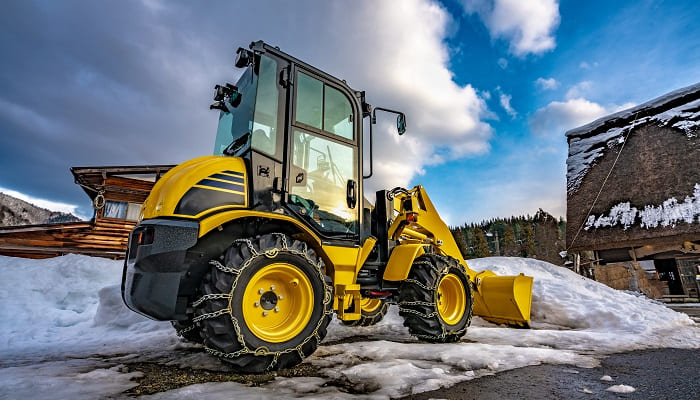 Snow plowing services are essential in many industries, including construction. Layers of ice and snow on your construction site can deter and inconvenience your daily activities. Since construction is an intricate job, it can't be safely executed in the presence of snow and ice. Therefore, you have no choice but to either remove the snow yourself or hire a plowing company for the task.
However, snow plowing isn't as easy as it sounds. To safely complete the task, you should have enough experience, safety tools, and equipment for the job. Having inexperienced workers remove the snow without safety equipment can result in serious injuries and even fatalities. For this reason, hiring highly trained professionals to perform the task is essential.
If you're still on the fence about hiring professional plowing services, the benefits below might help your decision-making:
Increased Safety
Layers of snow and ice are the main causes of slip-and-fall accidents on construction sites. If your parking lots and construction areas are covered with snow, it can be dangerous for your workers and visitors coming to inspect the project. Additionally, having your workers remove the snow without safety equipment can lead to damaging consequences. This can attract fines or closure of the construction sites because of failure to comply with federal laws for workers' safety.
However, hiring a snow removal company helps you avoid snow-related accidents. Such companies have trained expertise and safety equipment to handle snow removal. For instance, Hardline Equipment and others have snow blowers and plow equipment that ensures maximum safety when working with snow. Furthermore, snow removal companies are insured, which means you'll be compensated in case of damage or an accident.
Offer Expertise Services
We can't emphasize enough how dangerous it is to plow snow on your construction site by yourself. While you can do it at home, doing it on your construction site with a shovel is nearly impossible. Removing snow on your sidewalks at home is different from removing it on a construction site. Although you might complete the task after extensive hours of hard work, achieving maximum results is impossible.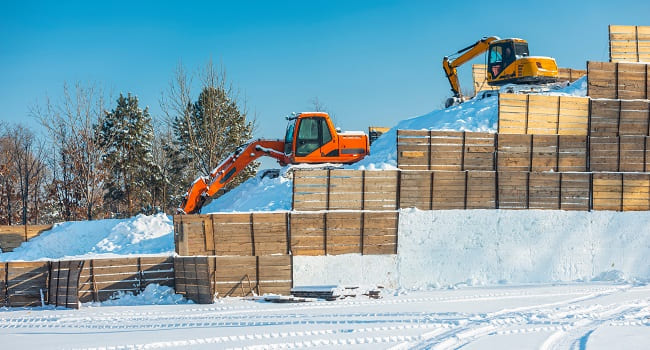 However, professional contractors with years of experience have specialized snow removal equipment that enables them to attain high-quality results. They carefully remove the snow and ensure every inch is shoveled off the ground. The special equipment also ensures the safety of the ground beneath the snow. The snow is plowed without damaging your floor.
Manage Time
Removing snow isn't a walk in the park, especially if you're using a snow scraper and a shovel. Removing snow on a construction site can take several days, depending on the amount of snow. This is a waste of time that can make contractors work behind their schedule and finish the project late.
However, professional snow removers with safety equipment can efficiently remove the snow in a fraction of the time it'd take doing it yourself. Additionally, snow removal experts help construction workers maintain their operations, thus enabling them to stick to their schedules. They ensure that the snow doesn't interfere with your daily activities. In fact, since construction projects work under tight deadlines, contractors usually have snow removal experts at bay to prevent snow from forming in construction areas.
The snow professionals conduct a full assessment during and after weather events to ensure workers and their construction equipment aren't hindered in their work.
Cut Costs
While people think that hiring snow removal experts is expensive, this isn't true. Hiring snow removers is cost-effective in the long run because you won't have to incur the cost of buying snow removal equipment like snowblowers or plows.
Removing snow by yourself in large areas like a construction site is more costly than hiring professionals. Also, if your workers don't know how to operate snow removal equipment, unnecessary costs and damage are prone to occur. Finally, hiring snow removal experts helps prevent the fines associated with failing to comply with federal laws, which state that workers should work in a safe environment.
Prevent Property Damage
Removing snow by yourself can result in expensive damage to your property. For instance, removing ice using a shovel or snow removal equipment can lead to damage to your floor or pavements. These are unwanted expenses that add up to your budget.
However, professionals are trained and have the experience to plow snow safely using snow removal equipment without damage. Additionally, professional removal companies are insured, meaning you'll be fully compensated in case of an accident or damage, unlike in doing it yourself where you'll be responsible for the damage.
Decreased Liability
Having your workers remove the snow as a contractor means you're liable for any slip and fall accident or property damage. This can put you in an overwhelming situation where you face lawsuits or fines if the damage or accidents are significant. To avoid this, it's wise to hire snow removal services or an expert to run your snow plowing to avoid unnecessary consequences.
Convenience
Partnering with a snow removal company brings convenience as they advise you on the best time to plow on your construction site. They can also assess your site to tell you when it's unsafe to work in the snow. Before they plow the snow, they also assess where to pile the snow so that it won't interfere with construction activities.
Professional snow removal services ensure that your construction site is convenient and safe for both workers and visitors inspecting the project.
Accessibility
Professional snow removal services make it easier for your workers to access construction areas and work safely without hindrances. They also ensure that visitors, site owners, and investors can safely navigate the construction site. Providing a safe working environment increases productivity and ensures you finish the project at the stipulated time.
Conclusion
Snow removal is a complex task that's best left to the professionals. This is because removing the snow yourself does more harm than good—you're bound to unnecessary injuries and fatalities, increasing your liabilities. Therefore, you can save your energy and time by hiring a professional snow removal company that'll assure safety and quality work.