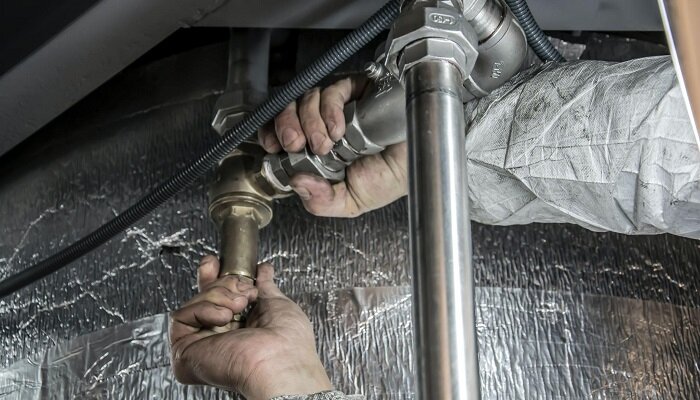 A reliable plumber answers all your plumbing nightmares. Whether you're struggling to get the water to pass through your sink, deal with the clogged water in the shower space, or have any other water drainage issues in your home, a plumber can help you fix it quickly.
But it's often difficult to land the right service for which you might have to pay more than you're supposed to. So, choosing the right service is the challenge here.
But our list of eleven things to consider before hiring a plumber for drain cleaning can save you any day. Read on to find out more about those eleven vital factors.
11 Considerable Things before Hiring a Plumber for Drain Cleaning
It may appear to you that drain cleaning isn't much of a hectic job. You might think it's a simple DIY-type task in which you may get away with minimum damage or mess.
However, drain cleaning requires the right equipment and experience to resolve blockages without causing more harm.
Hence, you must choose the right service contractor to get a sustainable drain cleaning service. In doing so, you must ask vital questions before hiring the right plumber for your job.
Below are the eleven questions you might consider:
1.  Is The Plumber Certified or Licensed?
Hiring a plumber to have your drain cleaned and unclogged might be urgent on any given day, but that shouldn't discount the necessity of checking with the service provider's license or any authorization.
A guy with no type of service quality authorization from the state or city is less likely to prove the best service you're seeking. On the other hand, an unprofessional service might even cost you more than what you're asking for.
So, make sure you're not only asking for the certificate or license from the plumber you're hiring but actually reviewing it with your own eyes before giving him the floor to work in your house.
2.  Is the Plumber Open to Queries?
A good plumber service will always be ready to answer your queries regarding the drain cleaning service you're willing to get. Observe whether the service contractor is eager to respond timely to your questions and that they're giving you reliable information.
Ensure they aren't sharing preliminary information with you or asking for unrealistic prices for the service.
A professional plumbing service provider is supposed to come up with the most suitable fixing solutions for your clogged drain or sewer line. It's wise to build trust between you and the service provider in the initial stage.
3.  Do They Ensure Damage Compensations?
You must ask the service provider beforehand about the possible damage you're likely to encounter while someone's servicing your house's pipes and drain system.
Even the most expert plumber can make mistakes, such as pipes, faucets, etc., can be broken or dismantled. However, if the service contractor gives you a word to compensate for the possible damage and actually puts the word into the service agreement, you're good to go.
Honestly, that's the best part of hiring a professional plumber, as you're insuring your extra costs at the expense of your service provider.
4.  Is the Service Contractor Long-Established?
It's always good to verify the plumbing company's service experience before you award them with the drain cleaning jobs of your house. It's not just being picky, rather a way to ensure a proper service is in place at the expense of your hard-earned money.
Many plumbing services only started out recently and are looking to warm up their skills by working in people's houses. This poses a risk of breaking and damaging things that they may not appropriately pay off due to lack of resources and funding.
Hence, choose an established and reputed plumbing service company to do the job of drain cleaning for your home.
5.  Are You Done with the Cost Estimation?
As you know, a few plumbing expenses are covered by house insurance. You'll find this out clearly by inquiring with your homeowner if you're renting.
But if you're the owner yourself, check how much and what specific plumbing costs can be exempted while getting the service.
If you come up with a clear cost estimation, the drain cleaning job will be easy with minimum additional costs. Hence, ask for a concise service price quote describing the jobs with their corresponding prices. Ensure there are no hidden charges that might arise later.
6.  Is Your Plumber Assuring Any Warranty?
It's wise to go with a warranty from the plumber's end. A professional and experienced plumber will most likely ensure a warranty as he fixes your clogged drain.
A warranty may not always be documented, but it's better if you ensure one. For instance, if you want to keep your toilet in great shape for a long time, a warranted service from the plumber is highly recommended.
Always remember, a reliable plumber will be very precise about what type of fixing jobs he's going to execute in the drain system of your house and how much it would cost.
Besides, each job will come with approximate timelines, mentioning how long you can go without further drain cleaning expenses.
7.  Has the Plumber Agreed to Provide References?
References can be acquired in two ways. You can either ask for reliable and authentic references from the service contractor themselves or consult your neighbors, friends, family members, or coworkers to source an experienced plumber service.
Cleaning the clogged drain in your home is not only about fixing the pipes and debrises, rather it entails the security of your property as well. So, sourcing a state-licensed, experienced, and safe plumbing service consisting of reliable references will ensure an A-grade service along with safety.
8. Who's Your Plumber?
It's a good practice to ensure safety as well as proper service rendered to you by identifying the actual plumber who's going to fix your clogged drain. Normally, several plumbers that work for a particular company may be assigned for a single job on request from the customer.
Nonetheless, you must ensure that the most skilled and experienced person does the job with minimum or no damage at all to your other home appliances.
Moreover, it's best to know the right person beforehand. You don't want to get a surprise by opening the door to an unknown or dubious person you haven't contacted regarding the required service.
A wrong plumber may not understand what service you need to fix your clogged drain, posing a risk of waste of money and time.
9.  Are You Paying in Full Before Service?
Don't ever pay all the service fees upfront to the plumber before he's even started his job. Instead, consider paying a portion of what has been fixed as the service fee and commit to paying the rest at the end of the job.
However, it's best to keep everything documented in the service contract avoid miscommunication or misunderstanding when the payment time arrives.
You might pay in full for quick services like joining the sink pipe, fixing a commode flush, replacing the drainage net, etc.
However, more complicated jobs like hydro-jetting cleaning or air-burst cleaning can take several days if you have multiple drain lines to be cleaned. In that case, paying the plumbing guy per each day's service is better.
10. Is It an Hourly or Flat Payment?
An hourly pay rate can be a good choice to go with for your drain cleaning service if the declogging isn't too hectic or time-consuming. However, if you or the plumber aren't sure how long it will take to fix the problem, you better settle with a flat rate payment.
Sometimes, service contractors may trick you into hourly rate payments by promising a quick fix of your drain clogs. Nonetheless, this may not be the case when they'll deliberately prolong the service time and squeeze you off a hefty amount of money.
The best policy, in this case, is to inquire with an experienced contractor clearly how long or how many hours exactly the service requires. Hence, you can fix the total payment based on the required number of hours.
11. Who's Cleaning the Mess?
Big question. The plumber may not care about the mess he's just made during his service. Some plumbers may not even know water management to prevent any burst pipes during their work. This can create a huge problem if not handled skillfully.
So, ensure to include the clean-up job in the service, including undesired situations.
Usually, most service contractors will charge extra for the cleanup, but there are companies that offer declogging and cleaning services in a single package.
So, research the companies in your area online and choose the service that won't leave you with their mess after cleaning the drain.
Key Takeaways
If you want to save money, and time and prolong the lifespan of your appliances, getting the right plumbing service is highly recommended. You need to assess the job's requirements and consider the tips accordingly. Try to keep things as much as in your favor while getting the service.
Always make sure to have a certified or licensed plumber to provide you with the service required in your drain system. Otherwise, it might jeopardize your house's sanitary, kitchen, and sewer lines, causing you to spend more later on.