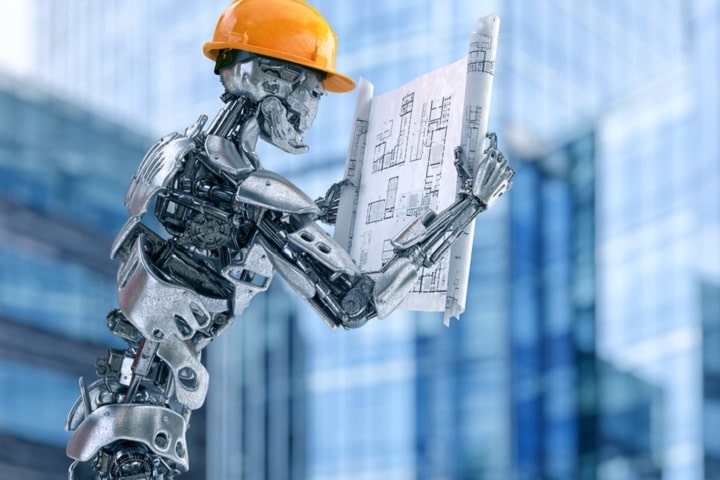 Abstract: As part of a greater move toward smart construction technology, AI in construction is becoming more prevalent. Advanced artificial intelligence products and their cost efficiency are the main factor predicted to bolster the growth of the global artificial intelligence in construction market by 2026.
Editorial:
People have been building shelters and structures for generations, making construction one of the oldest professions. However, the way structures are designed, planned, and built has changed significantly. In the construction industry, technology has been employed for decades to make jobs more efficient and construction sites & infrastructures safer. Construction organizations have rapidly begun to use artificial intelligence (AI) in a variety of ways to make construction more efficient and innovative in recent years.
AI is already proven its worth in the construction business, from optimizing work schedules to increasing workplace safety and keeping a secure eye on construction sites. According to Research Dive, the global artificial intelligence in construction market valued for $408.1 million in 2018 and is projected to reach up to $2,642.4 million at a CAGR of 26.3% by 2026.
COVID-19 Impact on the Global Market
The global AI in construction market witnessed significant decline in growth in 2020 due to the COVID-19 pandemic. This growth can be mainly attributed to the growing need for safety and advanced measures at the construction sites. Furthermore, as the Chinese manufacturers have entirely shut down their operations, the market might experience a drift in the product availability.
As cash circulation has been restricted across the market, capital liquidity is currently the most pressing issue for the construction sector. Huge fluctuations in retail have impacted commercial activity in developed projects, resulting in a drop in rental income. Moreover, businesses may decide to reduce office floor area to cut rental expenses. Currently, governments across the world along with WHO have started taking measures considering the impact to be short term and permitting essential construction to reopen with necessary safety precautions. Due to these initiatives, the market is expected to retain its growth by Q3/Q4 of 2022.
Factors Impacting the Market Growth
Advanced artificial intelligence products and their cost efficiency are the key factors that are expected to boost the growth of the global artificial intelligence in construction market in the upcoming years. Many huge corporations recruit experts over budget and take a long time to find the right people for their project teams. The professionals compute the overhead cost using artificial neural networks, where they forecast the overall cost of the project based on previous data and correct information, saving the organization a lot of money and time.
Many firms like IBM, Autodesk, etc. have introduced the use of robots, drones, and other automated vehicles to provide an aerial perspective of the construction site, mapping, and surveying, allowing these firms to automate the construction site and boost worker
productivity. All these aforementioned factors are predicted to boost the growth of the market in the analysis period 2018-2026.
The work that needs to be done in the construction area with artificial intelligence necessitates both technical and domain knowledge in order to get the desired results. If the worker does not have a thorough understanding of the subject, the entire project prediction and off-site construction work will no longer be useful, resulting in a significant loss for the company and forcing it to deal with a variety of project-related issues. These factors are estimated to hamper the market growth in the forecast timeframe.
North America Market to Witness Dominating Growth by 2026 The North America market accounted to have the largest share in the global artificial intelligence in the construction market. The North America market is expected to garner a revenue of $898.4 million and surge at a CAGR of 25.4% by 2026. This growth can be mainly attributed to the rapid advancement in technology and the increasing government initiatives in this region.
On the other hand, the Asia-Pacific regional market is anticipated to witness the highest growth rate. The Asia-Pacific market is expected to garner a revenue of $684.2 million and surge at a CAGR of 28.9% by 2026. Infrastructural construction, such as project management, risk management, and supply chain management are becoming more expensive. The growing need for smart cities in this region is prompting businesses to invest in artificial intelligence, which will boost the growth of AI in construction market in this region.
Latest Developments in the Artificial Intelligence in Construction Market The key market players functioning in the global artificial intelligence in construction market are focusing more on mergers and acquisitions, collaborations, technological advances, and product launches to gain a competitive advantage in the global market. For instance, in May 2021, Procore Technologies, Inc., a major provider of construction management software, announced the acquisition of INDUS.AI, a creator of an artificial intelligence-powered building integration framework. This acquisition expands the Procore platform's computer vision capabilities, allowing specialist contractors, general contractors, and owners to improve profitability, safety, and efficiencies.
In April 2021, BrainBox AI, a pioneer in autonomous AI technology for corporate and commercial real estate, announced that it has partnered with Skyfii. Skyfii, a prominent data intelligence supplier in the Asia-Pacific area, assists building owners in gaining a better understanding of their visitors' behavior patterns. Customers of Skyfii will be able to use BrainBox AI to quickly optimize their occupancy data, resulting in significant cost savings.
Author's Bio:
Rutuja Deshmukh is a Post-Graduate I.T Engineer by degree and a Content Writer by passion. Her love for literature and poetry led her down the path of writing and she aspires to turn her thoughts and knowledge into creating value-rich and engaging content in various niches. Her intellectual curiosity drives her to be a lifelong learner. Apart from being a logophile, she is a photographer, an artist, and a hodophile.