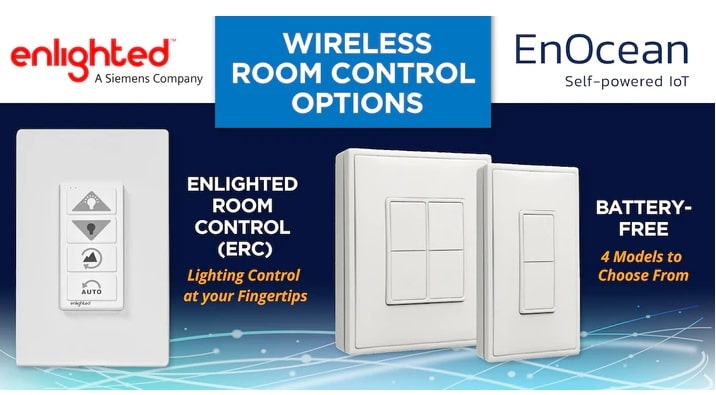 Enlighted, the leading building IoT platform provider, is expanding its connected lighting and IoT hardware offering with EnOcean's room controls as an alternative to the Enlighted Room Control (ERC). EnOcean's room controls are wireless and battery-free. This allows end-users to save time and money when installing and maintaining Enlighted's systems and helps reduce the number of batteries in landfills, protecting our environment.
EnOcean uses kinetic energy from the control being pressed as the energy source. Since the Enlighted platform is an open system that integrates with third-party devices and software through Bluetooth® and software APIs, the EnOcean room control integrates seamlessly with Enlighted Connected and Enlighted IoT sensors.
"Specifiers and end-users can now select from EnOcean room control or the Enlighted ERC," said Michael Gershowitz, Vice President of Lighting and IoT Solutions for Enlighted, a Siemens company. "Both options are wireless, making installation easy, and feature standard wall switch functionality with the capability to override automated programming. Building occupants can manually adjust lighting levels, and color temperature when tunable white fixtures are installed, to save energy, increase comfort or customize illumination for specific tasks. They can also choose from pre-programmed settings through the Enlighted ManageTM browser-based software interface or customize settings with a few clicks of a mouse."
EnOcean room controls are currently available for Enlighted customers in the United States, Canada, the European Union and the United Kingdom through Enlighted and EnOcean distributors. Options include 2-button (single rocker) and 4-button (dual rocker) controls. The 2-button control is ideal for controlling the on, off and dimming function of the lights. The 4-button control includes the feature to adjust color temperature and is ideal if the fixtures are tunable white. The 4-button switch can also be used to select pre-programmed scenes. Visit Enlighted's website to learn more about its full portfolio of room controls.
"We're excited to team up with Enlighted and provide customers with a choice in room control," said Troy Davis, Vice President Sales North America at EnOcean. "Integrating the EnOcean room controls into the Enlighted ecosystem and offering a battery-free and wireless alternative helps us all move towards a more flexible and more sustainable use of buildings."
ABOUT ENLIGHTED
Designed to change everything, Enlighted provides the world's most advanced Building IoT Platform for leading commercial and healthcare organizations around the globe, with more than 320 million square feet of building space deployed to date. Founded in 2009 and headquartered in Silicon Valley, Enlighted was acquired in 2018 and is a wholly-owned subsidiary of Siemens Industry, Inc. as part of Siemens Smart Infrastructure. For more information about Enlighted, visit enlightedinc.com.
ABOUT ENOCEAN
EnOcean GmbH is the pioneer of energy harvesting. Headquartered in Oberhaching, near Munich, the company delivers valuable data for the Internet of Things (IoT) with its resource-saving technology. For 20 years, EnOcean produces maintenance-free wireless switches and sensors, which gain their energy from the surrounding – from movement, light or temperature. The combination of miniaturized energy converters, ultra-low-power electronics and robust radio technology based on open standards (EnOcean, Zigbee and Bluetooth®) forms the foundation for digitized buildings, services and production processes in the IoT. The self-powered solutions are used in building automation, smart homes, LED lighting control and industrial applications and thus help to optimize the CO2-footprint of buildings. As an innovation driver, EnOcean is a strong partner for more than 350 leading product manufacturers and has already succeeded more than a million buildings worldwide with energy harvesting solutions.