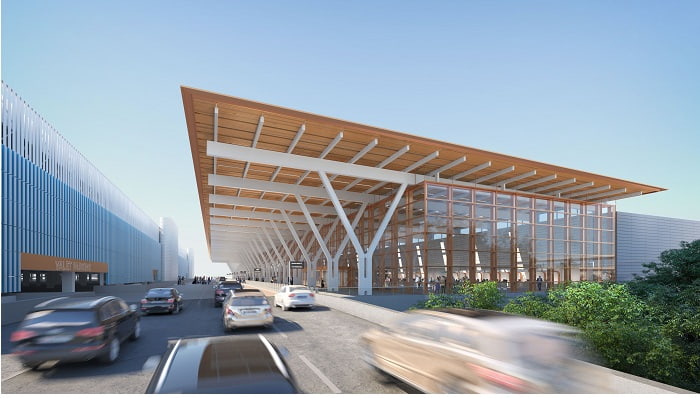 Siemens and SITA are providing the Kansas City Aviation Department with future-proof, scalable technologies for the Kansas City International (MCI) Airport's New Terminal project, dubbed Build KCI.
The new 1 million sq ft 39-gate terminal will include a variety of building automation, fire and life safety systems, and security systems from Siemens as well as IT networks and next-generation airport systems from SITA. These solutions will help create a smart airport terminal that can grow with the aviation department's long-term needs, decreasing operation and maintenance costs and enhancing the passenger experience through automation.
"Together, Siemens and SITA are providing the virtual and physical infrastructure that will ensure Kansas City International Airport's New Terminal is equipped to deliver an exceptional journey for our passengers; one built on innovation, industry expertise and a true understanding of what travelers want today and into the future," says Kansas City's Director of Aviation Pat Klein.
Siemens Smart Infrastructure (SI) is shaping the market for intelligent, adaptive infrastructure for today and the future. It addresses the pressing challenges of urbanization and climate change by connecting energy systems, buildings and industries. SI provides customers with a comprehensive end-to-end portfolio from a single source – with products, systems, solutions and services from the point of power generation all the way to consumption. With an increasingly digitalized ecosystem, it helps customers thrive and communities progress while contributing toward protecting the planet. SI creates environments that care. Siemens Smart Infrastructure has its global headquarters in Zug, Switzerland. As of September 30, 2020, the business had around 69,600 employees worldwide.
Siemens AG (Berlin and Munich) is a technology company focused on industry, infrastructure, transport, and healthcare. From more resource-efficient factories, resilient supply chains, and smarter buildings and grids, to cleaner and more comfortable transportation as well as advanced healthcare, the company creates technology with purpose adding real value for customers. By combining the real and the digital worlds, Siemens empowers its customers to transform their industries and markets, to transform the everyday for billions of people. Siemens also owns a majority stake in the publicly listed company Siemens Healthineers, a globally leading medical technology provider shaping the future of healthcare. In addition, Siemens holds a minority stake in Siemens Energy, a global leader in the transmission and generation of electrical power.In fiscal 2020, which ended on September 30, 2020, the Siemens Group generated revenue of €55.3 billion and net income of €4.2 billion. As of September 30, 2020, the company had around 293,000 employees worldwide.