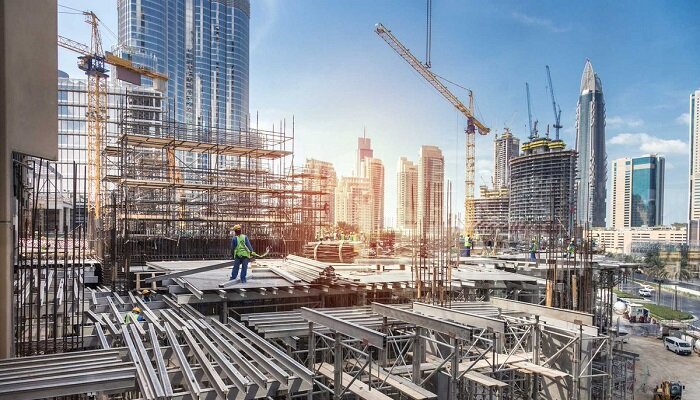 World Construction Today – Despite macroeconomic conditions having an impact on the construction sector globally, Saudi Arabia's construction industry continues to dominate the MENA region, according to JLL's Q4 2022. KSA Construction Market Intelligence Report. In 2022, the Kingdom awarded projects with the largest dollar figures, indicating its commitment to promoting economic diversification and reshaping the nation in line with its 2030 Vision.
According to Global Data, the KSA construction industry is expected to grow by 3.2% in 2022, with an additional annual average growth rate (AAGR) of 4% between 2023 and 2026.
For four years running, Saudi Arabia has held its dominance as the MENA region's strongest market with the greatest overall value of project awards. According to MEED Projects' tracking, as of October 2022, KSA held a 35% market share with contract awards totaling $31 billion, against a total MENA value of $87 billion.
$1.1 trillion is the projected value of Saudi Arabia's pipeline of unawarded (pre-execution) projects, which covers initiatives from the study stage all the way up to the main contractor bid. The majority of these projects, roughly 70%, are in the construction sector, with housing, culture, recreation, and hospitality serving as the most important subsectors. 13,000 hotel keys are anticipated to be delivered in Riyadh, Jeddah, and Makkah in the second half of 2022, highlighting the growth of the Kingdom's hospitality industry.
The 10 leading contractors in the Kingdom are in charge of $400 billion in projects that are now being completed, which makes up 40% of the $1.1 trillion future pipeline value. According to MEED Projects, $569 billion will be the total value of projects granted in KSA between 2021 and 2025, with $85 billion (15%) already allocated between 2021 and 2022. (October end). This demonstrates the need for more qualified contractors to be available on the local market in order to achieve the lofty objectives of Vision 2030 and the corresponding Giga Project Program.
JLL's market intelligence information further disclosed that global economic uncertainty in the first two-quarters of 2022 formed obstacles in the local construction marketplace in terms of shipping lead times and immediate rising prices, with suppliers unwilling to assure prices for long periods of time. Furthermore, it showed significant improvements from Q2 to Q3 2022, suggesting that price peaks have passed; yet, increased prices still pose a serious risk because of the correlation between economic factors and the patterns shown since 2020.
The research also emphasises the need to weigh projected building costs against regional and global economic conditions. The Kingdom's construction industry is expanding, placing pressure on the current supply chain and underscoring the need for stronger competitiveness to finish the backlog of projects even while commodity prices are falling or have already plateaued. Although Saudi Arabia and the wider MENA region rely on importing construction supplies from countries with high inflation, this has an impact on construction material pricing even though inflation forecasts for the country are fairly moderate when compared to global averages.
According to Laura Morgan, Market Intelligence Lead MEA at JLL, given the volatile market environment and increasing construction material costs, which managed to reach a significant peak all through Q2 2022, there is a need for rigorous mitigations, along with a cautious approach to contract implementation and risk allocation.
With an emphasis on innovation and digitization playing a vital role within the sector and in driving Vision 2030 projects, the construction sector will emphasise development needs that are in line with changing trends and desires going forward. That said, it's also important to recognise the value and opportunities offered by conventional cost management techniques, which can help developers create budgets early in the procurement process in an effort to shorten programme delays and facilitate conflict avoidance, she continued.
JLL predicts that tender price inflation (TPI) will have climbed by an average annual percentage change of 5% in building costs by 2022. The upward trend is an indicator of market elements including rising contractor and labour demand, fluctuating commodity and building material prices.
According to its intelligence acquired from various sources, JLL's midpoint TPI prediction foresees a possible year-on-year rise of 6% in 2023 associated with the expected project pipeline value linked to future demand.