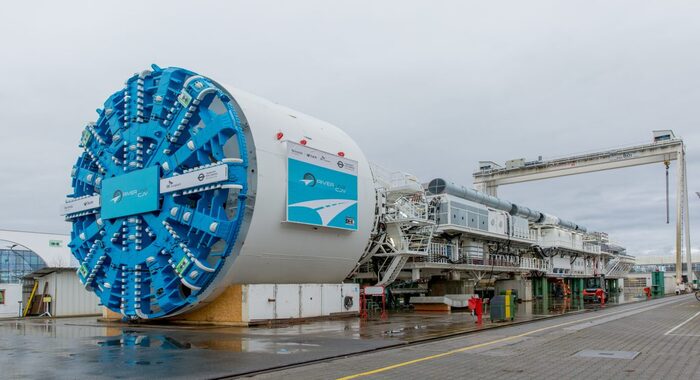 World Construction Today – On the east London Silvertown Tunnel project, the tunnel boring machine (TBM) Jill has begun operations. Riverlinx is a cooperation of Cintra, Invesis, Abrdn, Macquarie Capital, and SK ecoplant.
The consortium was initially given a design, construct, fund, administer, and manage contract by Transport for London (TfL), with an estimated value of €700 million. Costs have reportedly increased to €2.3 billion since that time. The 1.4 km road tunnel, which would connect the boroughs of Newham and Greenwich and run beneath the Thames, will improve north-south connections and relieve bottlenecks at the 125-year-old Blackwall Tunnel, according to TfL.
Beginning in 2020, construction activities included the cut and cover development of the areas near the tunnel entrances as well as the digging of a launch compartment for the TBM.
Substantial Excavation
The same TBM, an 82-meter-long device with an 11.91-meter cutter face, will be used to build both of the tunnel's twin bores. After finishing the initial bore, the TBM will turn around and head back to the northern entrance, moving south at a rate of about 10m per day.
During construction, some 600,000 tonnes of debris will be removed from the site. The building crew will put the materials onto boats, which will transport them as part of a rehabilitation plan to a previous landfill site.
At least 18,000 lorries will be taken off the road, according to TfL, when barges are used.
The commencement of tunnelling is a big step forward for this project, and they are dedicated to pushing hard to make sure that it is delivered with as little impact as possible on Londoners, said head of the Silvertown Tunnel programme at Transport for London, Helen Wright.
The new tunnel will help offer a wide range of local benefits, including dedicated bicycle and pedestrian facilities and new landscaping, in addition to easing congestion and expanding opportunities for cross-river buses. This really is a great accomplishment that was only made possible by the tremendous effort and teamwork of everyone concerned, said project director of Riverlinx, Juan Angel Martinez.
He is really pleased with what this project and the team are delivering, and he understands how crucial it is to them and the supply chain that the programme be carried out properly, ethically, and with benefits to the local communities, their employees, and themselves. He concluded by celebrating Jill's progress as a wonderful accomplishment.