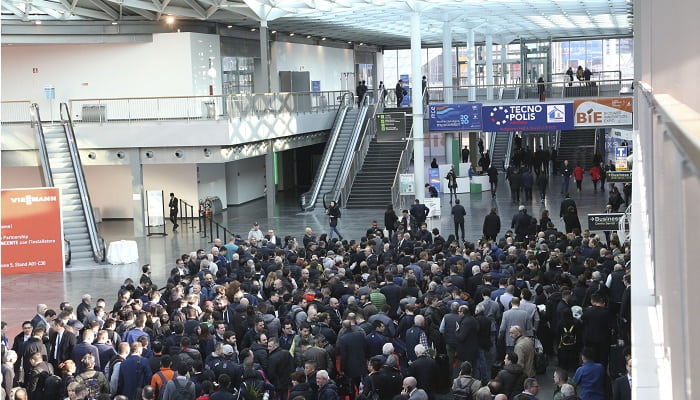 MOSTRA CONVEGNO EXPOCOMFORT, the world leading show focused on the latest energy efficient solutions in HVAC-R, Plumbing Technology and Renewable Energy, planned in conjunction with BIE – BIOMASS INNOVATION EXPO – both initially scheduled from 17th to 20th March, is postponed to 8 to 11 September 2020, following the recent coronavirus (COVID-19) outbreak in Italy.
After constantly monitoring the coronavirus Covid-19 outbreak and scrupulously following all the directives issued by the relevant Italian Health Authorities, Reed Exhibitions Italia has decided to postpone the two events.
"The health of our customers, partners and employees is our number one priority. With the recent development of the outbreak in Italy, especially in Lombardy, and taking into account the decree announced by the Lombardia Region to suspend "[…] events and any form of meeting in public or private place", we have had many discussions with a number of customers and partners over the last few days and we have decided to reschedule our events to September", said Massimiliano Pierini, Managing Director of Reed Exhibitions Italia.
"This is not a decision we have taken lightly; our customers, partners and team in Italy have worked incredibly hard on these events and, while it is disappointing to postpone, it's imperative that we prioritise the health and safety of everyone involved. Our goal remains to provide the best customer value for everyone attending MCE and BIE in September and to serve the industry more globally in the best conditions of security and serenity. With this in mind, over the coming weeks, we will be creating ways of keeping our community connected to support and collaborate and to keep our world moving during this difficult period".
The MCE and BIE team is at the disposal of the customers, stakeholders, buyers, visitors and any professionals for any questions they may have in managing the transition to the next issues of MCE and BIE later in 2020.
MCE – Mostra Convegno Expocomfort
Mostra Convegno Expocomfort is the biennial International exhibition dedicated to residential and industrial installations: heating, air-conditioning, refrigeration, hardware, valves, sanitary technology, bathroom environment, water treatment, tools, renewable energy sources, and services. Devised in 1960 as Italy's first trade exhibition, MCE has been a leader in the sector for more than 50 years thanks to its proven ability to follow the evolution across the reference markets, creating opportunities for technical, educational and political exchange and discussion. Mostra Convegno Expocomfort is owned by Reed Exhibitions, the world's leading organiser of exhibitions, trade shows, and conferences, whose current portfolio includes over 500 events in 30 countries with overall attendance figures of more than 7 million participants in 2019. Reed Exhibitions has 30 branches worldwide serving 43 industry sectors. Reed Exhibitions is part of RELX Group plc, the leading provider of professional information and workflow solutions in the business sector.