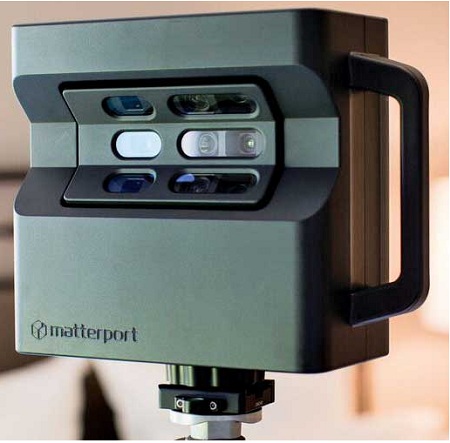 Getting point-cloud data to verify as-builts and quickly map out an interior space is often a matter of balancing time and cost. But new smaller, easier-to-use scanners are coming to market that don't require extra training or large investments to deploy on jobsites.
Building on their previous scanner, Matterport's Pro2 offers a much-improved visual fidelity while maintaining the camera's single-button functionality. "Our focus is making sure the equipment is low cost and the user experience is very simple," says Bill Brown, Matterport CEO.
"The higher-resolution pictures are good for checking as-built conditions, and we are also seeing a use case for documenting conditions at occupancy," says Chad Knutson, Gilbane Building Co. VDC manager for the Central and Midwest regions. "For small projects in particular, it's a great way to see what is there."
The Pro2 scanner has a 134-megapixel camera that can take 360° images with full GPS geotagging. Images from the camera are synced to an iPad, which then uploads the imagery to Matterport's servers for processing. The resulting stitched-together, point-cloud image is accurate enough to take basic measurements and check against 3D design models.
"We found it was a good tool for our project managers to keep them on the same page when talking to owners," says Knutson, who has tested out an earlier version of the Pro2 scanner. "It also helped our estimators—who don't get out of the office that much—get a better feel for the spaces they are estimating."
While the Pro2 Camera can't  provide imagery and point clouds with the fidelity of higher-end scanners, it does fill a niche of jobs that otherwise would go unscanned, says Knutson. "The value proposition we're realizing is that [the Pro2 scanner] is great on smaller projects where we can't justify deploying survey-grade LiDAR." According to Knutson, Gilbane engineers were able to scan 10,000-sq-ft spaces in two hours with minimal training on the equipment.
The scans can be exported from Matterport's web client to popular file formats for loading into BIM software, and the imagery can be processed for use in virtual-reality visualizations, as well.
"This sort of fast reality-capture workflow is the sign of things to come," says Brown. "If a scanner can knock out a whole room in an hour, and a few hours later you have a fully registered point cloud, that's going to change the way you work. You are effectively modeling the building as it is being built."