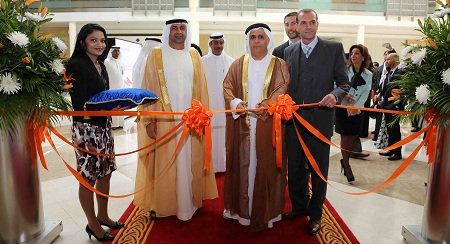 Automation and Industry 4.0 are among the central themes set to solve challenges faced by regional manufacturing, logistics, and warehousing heads at the upcoming Materials Handling Middle East 2017 exhibition in Dubai.
Global suppliers are preparing to showcase their latest solutions at the region's dedicated trade fair for intralogistics, supply chain management, freight and cargo, with several of the world's top 20 materials handling systems already signed on.
The biennial three-day event takes place from 11-13 September 2017 at the Dubai International Convention and Exhibition Centre, with the world's top ranked supplier Daifuku from Japan spearheading an international exhibitor charge that also features fellow Top 20 players from Switzerland – Swisslog and Kardex.
More than 130 exhibitors from 21 countries representing 250 brands will be out in force, with the global contingent of exhibitors complemented by leading local companies such as SPAN Group,GENAVCO, United Motors & Heavy Equipment, and Eternity Technologies.
Automation was a core topic at the previous edition of Materials Handling Middle East,covering a range of industries from e-commerce, banking and retail,to F&B (Food & Beverage), automotive and pharmaceuticals.
According tosome industry professionals, the next step in the evolution of materials handling is Industry 4.0 – the merging of automation and data exchange in manufacturing technologies, combining cyber-physical systems,IoT(Internet of Things) and cloud computing.
Swisslog, a leading automation expert for robot-based and data-driven intralogistics solutions, will be at Materials Handling Middle East 2017 to launch several latest offerings incorporating Industry 4.0.
Frederic Zielinski, General Manager of Swisslog Middle East,said the logistics industry is in a state of flux, with new themes such as Industry 4.0, digitalisation, and constantly changing consumer buying habits demanding new concepts.
"Industry 4.0 has the potential to reshuffle the cards in how businesses operate," said Zielinski.  "With networked intelligence in manufacturing and self-organising production processes, the 'factory of the future' will perform a quantum leap in productivity, flexibility, and efficiency.
"The focus in the future will no longer be on the manufacturing process of purely mass-produced goods, but on the customised product manufactured to industrial standards, and thus on customers' requirements.  This evolutionary step can only succeed, however, if we finally break down the barriers between the digital and real worlds."
Added Zielinski: "At our Materials Handling Middle East booth, visitors will learn more about software and smart data we offer and experience the combination and simulation of innovative logistics systems that make the vision of a sophisticated high-tech warehouse a reality today. Warehouse management software will be the key in the age of Industry 4.0, so we'll demonstrate our latest offerings in that direction as well."
GENAVCO, one of the UAE's leading suppliers of warehouse storage and material handling solutions, is another exhibitor launching its end-to-end warehouse solution engineering capabilities during Materials Handling Middle East 2017.
Neeraj Mahajan, the Director of GENAVCO, said material handling equipment represents an integral part of the supply chain of diverse industries for storage, control and movement of items – from the raw material stage to the distribution of finished products.
"The rising need for global production companies to automate operations and foster flow of goods in an efficient manner is the key force driving growth in the materials handling equipment market," said Mahajan.
"The main challenge for customers in this region is to get a complete solution from a single source. They have to approach two or three companies for a complete warehouse solution.  This process itself is time consuming and most of the time they are facing great difficulty to get an optimised solution meeting their needs.
"Here we play a vital role with our Warehouse Solution Engineering to overcome this challenge by offering end-to-end solutions.  We design and develop custom made concepts as per customer requirements, so projects are delivered from one source and in the timeliest manner."
The 9th edition of Materials Handling Middle East arrives as analysts Frost & Sullivan estimate the Gulf Cooperation Council's (GCC) materials handling equipmentmarket to grow four per cent annuallyup to 2020, when revenues will reach between US$4.8 to five billion.
Saudi Arabia, with about 46 per cent regional market share, and the UAE with 35 per cent, make up the largest markets in the region and are expected to continue to lead market expansion going forward.
Ahmed Pauwels, CEO of Messe Frankfurt Middle East, the organiser of Materials Handling Middle East, said: "Automation and the merging of digital and intelligent processes and systems will steer the future of regional intralogistics and materials handling."
"By implementing fully integrated, effective, future-proof automation solutions and keeping their facilities modernised, companies can not only speed up their processes and satisfy changing customer needs, but also stay profitable by adding greater productivity to their supply chain.
"At Materials Handling Middle East 2017,the spotlight will shine on the latest technologies that solve key challenges that warehouse and supply chain managers face today.  These range fromeco-friendly pallets, automated storage and picking solutions, and warehouse mapping using 3D virtual reality, to more traditional equipment such as warehouse trucks, telehandlers, tow tractors, cranes, and packaging."
Materials Handling Middle East 2017 will feature the 2nd edition of the Supply Chain and Logistics Forum, an interactive summitbringing together regional industry professionals along with their international counterparts, government bodies, and policy makers to discuss key challenges and growth opportunities for logistics in the Middle East.
The event will alsoreturn with the highly popular Forklift Operator of the Year, a unique competition where the UAE's most skilled forklift jockeys go head to head to be crowned the country's most skilled, safest, and efficient forklift operator.
More information is avaliable at: www.materialshandlingme.com.
Materials Handling Middle East is the region's only exhibition for the Materials Handling industry, covering products and services in intralogistics, warehousing, supply chain, freight and cargo. The biennial three-day event focuses on solutions for the six main sectors that are impacted by the materials handling industry, including logistics, FMCG, Automotive, Retail, Pharmaceuticals, and the Oil & Gas industries.  Materials Handling Middle East 2015 featured 250 brands from 21 countries, and welcomed 4,498 visitors from 62 countries.  The 2017 edition will put a spotlight on the latest international materials handling solutions, with a strong emphasis on automation, Industry 4.0 and information & communication technology.
Show website – www.materialshandlingme.com
Messe Frankfurt
Messe Frankfurt is the world's largest trade fair, congress and event organiser with its own exhibition grounds. With some 2,400 employees at 30 locations, the company generates annual sales of over €640 million. The Messe Frankfurt Group has a global network of 30 subsidiaries and 55 international sales partners, allowing it to serve its customers on location in 175 countries. Messe Frankfurt events take place at approx. 50 locations around the globe. In 2016, a total of 138 trade fairs were held under the Messe Frankfurt umbrella, of which more than half took place outside Germany.
Thanks to its far-reaching ties with the relevant sectors and to its international sales network, the Group looks after the business interests of its customers effectively. A comprehensive range of services – both onsite and online – ensures that customers worldwide enjoy consistently high quality and flexibility when planning, organising and running their events. The wide range of services includes renting exhibition grounds, trade fair construction and marketing, personnel and food services.  With its headquarters in Frankfurt am Main, the company is owned by the City of Frankfurt (60 percent) and the State of Hesse (40 percent).
For more information, please visit our website at: www.messefrankfurt.com
About Messe Frankfurt Middle East GmbH
The portfolio of events for Messe Frankfurt Middle East includes Automechanika Dubai, Automechanika Jeddah, Automechanika Riyadh, Beautyworld Middle East, Hardware+Tools Middle East, Intersec, Intersec Saudi Arabia, Leatherworld Middle East, Light Middle East, Materials Handling Middle East, Materials Handling Saudi Arabia, Paperworld Middle East, and Prolight + Sound Middle East.  The subsidiary also organises a series of conferences and seminars including the BOHS Worker Health Protection Conference, the Business in Beauty Summit, the Light Middle East Conference, Smart Traffic Middle East, and Future Mobility. For more information, please visit our website at www.messefrankfurtme.com