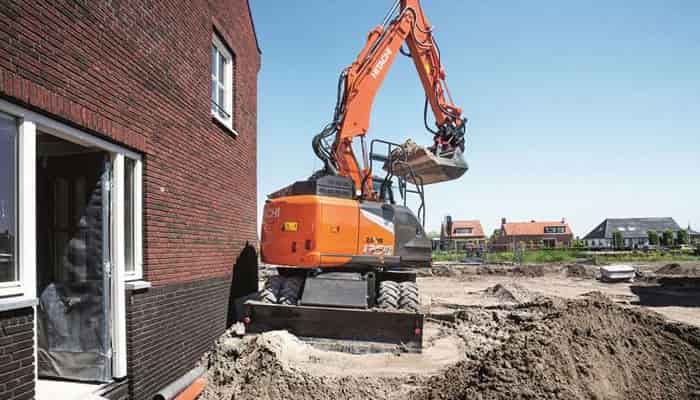 World Construction Today – With the introduction of the ZX135W-7, Hitachi Construction Machinery Europe has further increased its range of wheeled excavators. This model will be displayed at Bauma in Germany in October of this year.
With a 2.2-meter arm length, a 4-cylinder Deutz Stage V-compliant engine, and a 360-degree swing arc, Hitachi claims the machine functions well in small places and was made to satisfy the demands of contractors looking to increase adaptability. The 14-ton maximum operational weight of the short-tail ZX135W-7 and the HIOS V hydraulic system are both touted to boost front speed while consuming up to 7% less fuel than the Zaxis-6.
The company believes that a feature on the machine that lets users regulate fuel economy can help lower costs and boost revenues. The improved attachment support system allows for simple shifting of the wheeled excavator's attachments, and the machine may be adjusted to the convenience and operational inclinations of the operator as well as the safety regulations of the site.
Hitachi stated that the Aerial Angle camera system's remarkable 270-degree bird's-eye perspective enhances visibility and increases machine safety. Six visual selections are available to operators on the monitor to examine their immediate surroundings.
Additionally, the Zaxis-7 wheeled excavator has larger mirrors, a windshield wiper with a wider sweeping area, LED work lights, and for extra safety, the top structure and the front attachment will lock in position when the vehicle is in the correct position for travelling on public highways.
They are thrilled to present this highly adaptable new model to the market and are looking forward to exhibiting it at Bauma 2022, said Wilbert Blom, Hitachi Europe's excavator product manager.
The Netherlands-based business has released a number of new excavator models for the European market, including the ZX135W-7. Hitachi introduced the ZX390TC-7 earlier in July to expand its lineup of Zaxis-7 medium excavators.