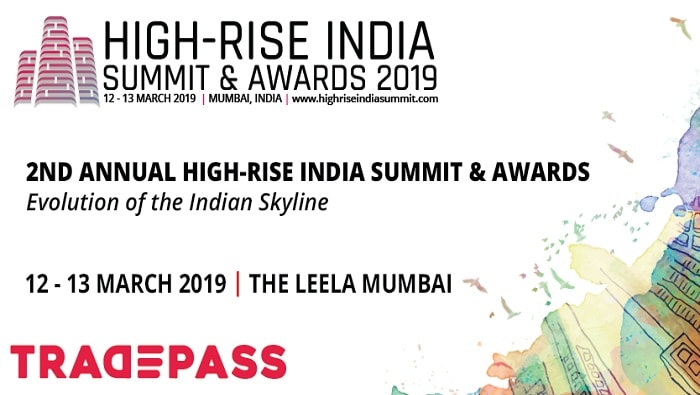 Global conference and B2B events organizer, Tradepass, haslaunched the 2nd Annual High-Rise India Summit & Awards, scheduled to take place on 12 – 13 March, 2019 at The Leela Mumbai.
The high demand for settlement in the urban areas and a dearth of land space has resulted in the emergence of vertical cities to accommodate the high influx of population. India is home to some of the tallest buildings in the world. With more than 1500 high-rise buildings, Mumbai is known as high-rise capital of India. Organizations and individuals have taken it upon their shoulders to find the most innovative and effective ways to shape up the Indian skyline with their state-of-the-art, revolutionary projects in the high-rise construction sector.
Focused on the theme, Evolution of the Indian Skyline, the 2nd Annual High-Rise India Summit & Awards will provide a platform for top Builders, Contractors, Construction Companies, Architects, Designers, Developers, Engineers and representatives from the Indian Government to come together and discuss the concerns, designs and analyze solutions for the upcoming projects. The event will also witness some of the latest innovations and technologies that cater to the high-rise construction sector in India.
Shri. Durga Shanker Mishra, Secretary, Ministry of Housing and Urban Affairs, Government of India, is the Chief Guest and opening keynote speaker for the 2nd Annual High-Rise India Summit & Awards. The two-day event will bring together 20 innovative solution providers like Kone,Trimble Solutions India(Tekla), Asian Paints,Alccofine, Everest Industries, Berger Paints, Wilo Mather and Platt Pumps Pvt. Ltd, Kirloskar Brothers Limited, Technocraft, Dehn India, Dow Chemicals,Dr.Fixit(Pidilite)and CPP Wind Engineering. In addition to that, the terrific line-up of speakers includes names like
• P. S. Rahangdale, Director, Maharashtra Fire Services
• Rohtash Kr. Singla, General Manager (Air Traffic Management), Airports Authority of India
• Girish Dravid, Director, Sterling Engineering Consultancy Services Pvt. Ltd
• Vasudevan Suresh, Chairman, Indian Green Building Council(IGBC)
• Nayan Trivedi, Partner, LERA Consulting Structure Engineers
• Anupam De, Principal architect, Anupam De and Associates
• Vivek Bhole, CMD, Vivek Bhole Architects
• Rahul P S, Wind Engineering Specialist, RWDI
• Reza Kabul, President, ARC Studios
• Hans Brouwer, Director, HB Design
• Matthew Engele, Principal & Regional Leader- Design, Woods Bagot
For the full list of speakers, visit www.highriseindiasummit.com
The prestigious High-Rise India Awards returns this year to recognise and acknowledge outstanding contributions by trailblazing architects, designers, engineers, consultants and visionaries, whose inspiring and memorable designs and structures play a major role in the 'Evolution of the Indian Skyline'.
The first edition of the High-Rise India Summit & Awards which was held on 8 – 9 February 2018 at the ITC Maratha, Mumbai, brought together 250+ professionals from the high-rise construction industry (architects, contractors, developers, construction companies, Govt. officials and world-class solution providers). Over the two days, there were presentations, interactive panel discussions, one-on-one meetings and networking sessions, followed by the HRIS Awards ceremony. Theevent brought to the fore new information and ideas about innovation in the high-rise construction industry.
More information on the 2nd Annual High-Rise India Summit & Awards is now available at www.highriseindiasummit.com