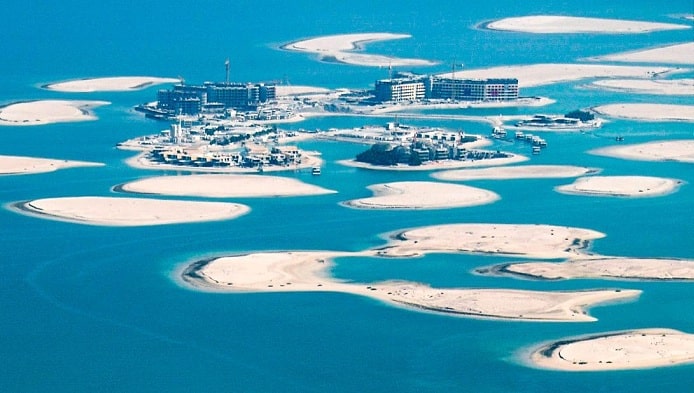 Kleindienst Group, the developer behind The Heart of Europe islands development off the coast of Dubai has announced that the first phase of the islands has been completed and they are set to start handing over units to investors in December. The US$5 billion projects on the manmade island archipelago, will deliver 2,000 villas and palaces as part of phase one of the European-themed development.
Construction on the St. Tropez island, which will be a recreation of the famous French Riviera town, will have 4,000 units spread across 15 hotels, with the first half of units delivered to buyers by January 2021. St. Tropez promises to deliver luxury suites where every window overlooks mesmerizing seascapes that shine under the sun. Guests will be able to surround themselves in the spellbinding beauty of the azure blue sky and golden sands of the longest private beach in the UAE.
Six themed islands form the Heart of Europe, with travelers able to choose between locations designed to replicate Sweden, Germany, Switzerland, Venice, the Cote d'Azure, and others. The concept is that, once they've arrived, guests should be able to convince themselves they've been transported from often sweltering Arabian heat to less arid climes. Since about 90 percent of the developments of the island are hospitality units, hotels and resorts will be opened when large-scale tourism traffic starts to pick up
Josef Kleindienst, the group chairman stated that "Despite the challenges posed by the (coronavirus disease) COVID-19 pandemic, we were determined to go ahead with our planned development and as the lockdown was announced in March, we shifted our entire team to The Heart of Europe islands and continued to construct." He also stated that during the lockdown in Dubai, the entire team was isolated from the mainland and confined to the island where they continued to focus on building.