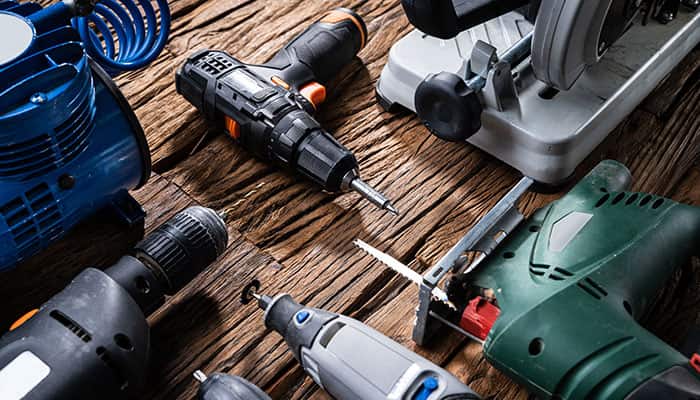 In the modern world, science and technology are working together to develop innovative tools and ways to perform different tasks easily and efficiently.
Every home, workshop, or construction project requires power tools to perform different tasks. The relevant tools help reduce the force exerted when performing a task. Power tools usually come in two types: corded and cordless tools.
Corded tools must be connected to an electric outlet, while cordless tools don't need a power source. Cordless tools are said to be the most preferred as they don't limit your movement, making them practical and convenient.
Sadly, power tools are a bit expensive, meaning not everyone can afford them. Yet basic power tools are cheap and readily accessible; every builder, handicraft enthusiast, and the like should have them in their working kits. Read on to learn more about each tool recommended by experts for do-it-yourself (DIY) builders out there.
1. Circular Saw And Supplementary Tool Accessories
A circular saw is an essential tool every builder should possess. It's a versatile, rapid, and powerful handheld cutting tool that makes rigid, smooth, and controlled cuts through timber, metal, mortar, masonry, and granite.
The saw has a circular adjustable blade that does the cutting. The blade used to cut wood differs from the blade used to cut metal or granite. You just need to change the blades when cutting a different material. You can buy a circular saw tool at your local hardware or order it from companies like Data Power Tools Ltd and others.
2. Power Drill
A power drill is said to be among the most used power tools both professionally and at home. It's crucial for everyday tasks such as installing shelves, building a deck, or installing a baby gate. Plus, it allows you to drill holes easily, tighten screws, do woodwork, and do other tasks.
Power drills are of two types: corded and cordless drills. Cordless drills are powered by batteries and are portable, allowing you to conduct tasks while being in your comfort zone. Corded drills are suitable if you're working on a budget as they're inexpensive. Corded drills are also more versatile and powerful than cordless drills.
3. Jigsaw
A jigsaw is also an indispensable construction tool that enables you to cut curved lines or smooth circular patterns on wooden materials. While regular saws are used to cut straight lines, a jigsaw cuts out complicated patterns and curved lines. Different blades are used in a jigsaw, making it possible to cut through steel and fiberglass. The jigsaw's blades make the cuts by moving up and down and have a speed control button, which controls how fast the blades move when cutting.
4. Paint Sprayer
In the old days, you could spend hours painting your house using a brush. But with paint sprayers, painting is much simpler and easier. Homeowners love to change the color of their homes or renew old paint regularly. Using a paint sprayer for the task saves you time and neatly finishes the work. Here you won't worry about the mess brought by painting. Paint sprayer comes in different styles and categories; your choice will depend on your needs.
5. Orbital Sander
Every home improvement project requires an electric sander. This is one of the tools that every builder should own. Sanding large objects can be slow, sloppy, and tiring. Nonetheless, using an electric sander makes the work easier and simple and offers great results. Electric sanders are orbital, meaning they sand without leaving scratches on the wood.
6. Nail Gun And Air Compressor
An electronic nail gun is an upgrade and development of a hammer. It's used to screw nails on wooden structures. You simply need to point the gun where you need to nail and press the trigger. A nail gun guarantees accurate results compared to banging nails by hand, which looks sloppy.
Nail guns are powered by an air compressor that comes attached to them. The air compressor can be used with a blow gun or paint sprayer.
7. Chop Saw
Chop, abrasive, or cut-off saws are power tools that cut hard materials like metals, concrete, and tiles. They use large blades that slice dimensional lumber with speed and accuracy. They're used to cut PVC pipes and composite decking. too
8. Grinder 
A grinder is also a useful power tool for DIY builders. It spins disks to grind and cut all kinds of material. The disks are cheap and readily available. The thin disks are useful for cutting and are used in jobs such as trimming metal pipes or cutting off rusty nail heads. On the flip side, thick disks are used for grinding and are useful for removing rust, smoothening rough spots, and sharpening tools.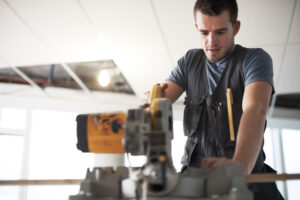 Conclusion
The power tools enumerated above are necessary and will help you in home renovation projects. While other pieces of equipment are needed for different projects as well, they're the commonly used choices by DIY builders. These tools help simplify tasks making you finish your projects faster.