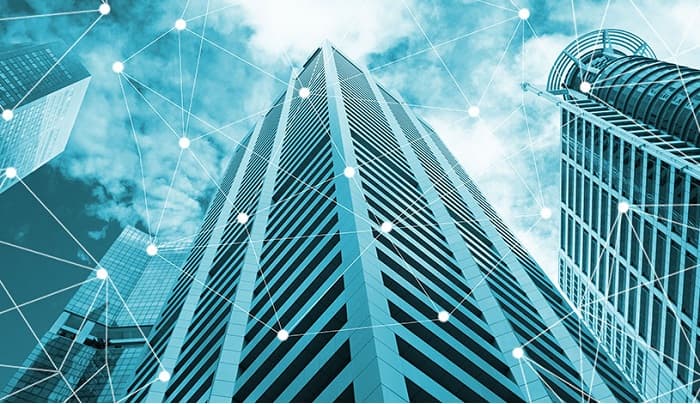 What is the first thing that comes in mind when we talk of smart buildings? Anything that provides seamlessness to the overall functionality makes that piece of infrastructure smart. It goes without saying that these smart buildings leave no stone unturned in making the entire experience of the people coming in exceptional. A smart building uses elements such as sensors, microchips, etc. to collect data that in turn helps everyone involved in making informed decisions so that the performance and reliability both upgrade to the next level. Optimizing space, reduction in electricity usage are some of the many benefits which can be derived by the usage of technology in buildings.
For long buildings are known to provide shelter, workspace, and safety but tag them along with the smart concept and you will find an array of benefits they can offer to the users. The occupants become used to features like smart lighting, enhanced air quality, dependable security, better sanitation, etc. at a lower cost and without pressing the environment. Be it a residential infrastructure or a commercial establishment such as a workplace, hotel, hospital or a mall, adopting intelligent software practices has become quite a norm these days.
There are two ways to look at things. Either make a smart building or make the building smart. Most of the realtors and architects today focus on making their upcoming projects technologically equipped and superior. And then there are existing buildings which have started to adopt technologies to make the life of occupants hassle-free. To start with, linking core systems like lighting, water meters, water pumps, heating and fire alarms to sensors and control systems paves the way to a smart beginning within the infrastructure. At a more superior stage, the smart system in these buildings can get inculcated into elevators, shading and even access points. In the modern era, we most often than not witness new buildings which have adapted the smart way of life and it takes no rocket science to understand how much cost-effectiveness they provide to the occupants. Increase in the productivity of the facility staff, reduction in the energy cost and enhanced decision making makes these smart buildings the ones to look out for. That's the promise they offer and in no doubt will be a boon since they will be given a lot of importance in the near future.
You may call them smart, intelligent, energy-efficient or automated; this infrastructure is here to stay. Come what may, the idea is to improve performance through the help of interconnected technologies and thus become more responsive. If we were to enlist the benefits one would get prone to when entering a smart building, they would primarily be monitoring performances, detect inefficiencies-if any, check causes, make alternative shifts and alert the facility staff to make possible amends in the existing process. Today, we all hear of smart cities taking over and how important they are for ease of living. These smart cities would comprise of smart infrastructure especially the buildings which would help add seamlessness to the working and thinking of people associated with it. The essence of having them is to make the generation next equipped to handle all issues pertaining to living or workspace so that they focus more on the other important things. Smart buildings offer a holistic approach towards being futuristic as they not only tend to emphasize on the social and economic aspects but environmental factor as well. So, the next time you enter any smart building, be rest assured that your stay is going to be exciting, versatile and comfortable.