Balfour Beatty has been contracted by NP International (NPI) to build the 1.3-million-square-foot, mixed-use les Station development located in the heart of Coral Gables, Fla.
Comprised of three towers, the development will feature 120,000 square feet of retail space, 500 residential units, including 66 furnished extended-stay hotel units, and a 1,000-car parking garage.    

The transit-oriented Gables Station project site is situated within a growing commercial corridor on U.S. Highway 1 and adjacent to the Miami Metrorail, providing easy access to the Miami International Airport, Brickell, downtown Miami, Coconut Grove, and Dadeland. The project will be directly connected to the Underline Park, a 10-mile, linear park and urban trail designed to transform the land below Miami's Metrorail. The development will also be connected to Coral Gables' downtown by the city's free trolley system.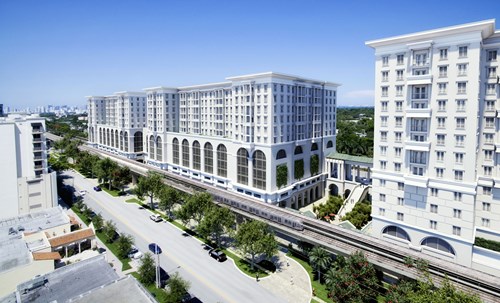 "NP International develops meaningful projects in close proximity to public transportation systems in urban locations that maximize value for their communities," said Scott Skidelsky, president for Balfour Beatty's buildings operations in Florida. "We've had the privilege of being NP International's construction partner on world-class projects in the past and we're honored for the opportunity to once again be their partner in delivering a project as unique as Gables Station."
 The project's two residential buildings will include a combined 450 units. Facing the Underline Park on the ground level, one of the residential buildings will include 19,000 square feet of retail, while the second will include 18,000 square feet of retail space. With five floors of parking in each residential building, u-shaped pool decks will overlook US-1 and Coconut Grove's green canopy of trees. Gable Station's third building will be home to the limited-service, extended-stay lodging offering with 68,000 square feet of retail space for lifestyle and wellness tenants.

Scheduled for delivery in the fourth quarter of 2020 and designed to achieve LEED® Certified Silver criteria, the Balfour Beatty team will leverage the latest technologies and lean construction methods to efficiently deliver NP International's Gables Station. The Gables Station project was designed by architect Jorge Hernandez in partnership with Gensler.  

Balfour Beatty is an industry-leading provider of general contracting, at-risk construction management and design-build services for public and private sector clients across the United States. Performing heavy civil and vertical construction, the company is part of Balfour Beatty plc (LSE: BBY), a leading international infrastructure group that provides innovative and efficient infrastructure that underpins our daily lives, supports communities and enables economic growth. Consistently ranked among the nation's largest contractors, Balfour Beatty is the No. 6 Domestic Building Contractor in the United States as ranked by Engineering News-Record. To learn more, visit www.balfourbeattyus.com