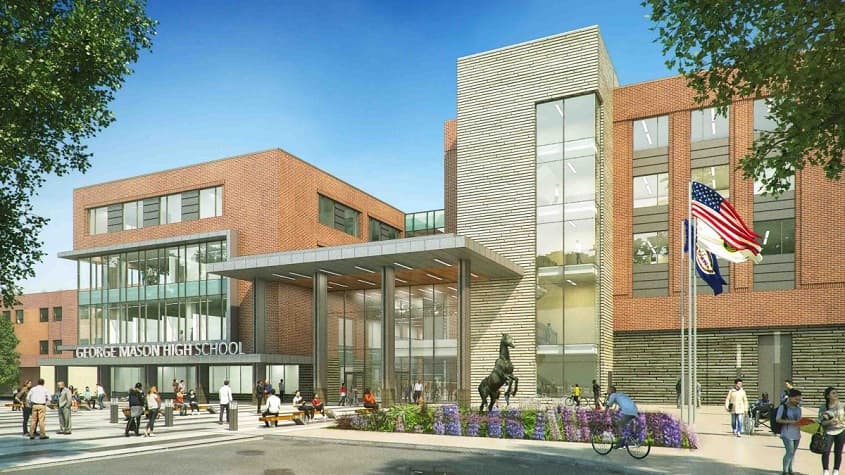 Following a process that began back in November, the Falls Church City School Board unanimously selected the design-build team of Gilbane, Stantec, and Quinn Evans Architects (QEA) for the new $108 million George Mason High School in Falls Church.
Falls Church City Schools' Superintendent Peter Noonan noted in a statement, "The design put forth by the Gilbane team is nothing short of brilliant. It is everything the community has asked for and more. I'm very excited as we now move into the home stretch with engagement between the architects and the community beginning in earnest."
The selection of the design-build team comes after the Falls Church community approved a referendum to build the new high school in November 2017, after 10 years of document reviews, community meetings and feasibility research. The construction of the new building will be the last step in the process. The team's design was selected because it addressed the community's top priorities but also emphasized sustainable elements, flexible and collaborative learning spaces, community accessibility, robust safety and security measures, and compatibility with the upcoming adjacent 10-acre private development site planned as a vibrant mixed-use community.
The proposed exterior design of the new George Mason High School blends modern materials with traditional brick for a contemporary aesthetic constructed to stand the test of time. Interiors are also designed with an eye toward tomorrow with flexible floorplans that provide security, efficiency, and adaptability to support programs and educational needs as they evolve. Students and teachers are offered a mix of spaces informed by the priorities of flexibility, visual transparency and natural daylighting — to forge an academic setting that encourages creative thought, community building and individual growth.
Gilbane, Stantec, and QEA each bring local K-12 expertise with award-winning portfolios of urban school projects in Northern Virginia and Washington, D.C. Notable projects include Dunbar Senior High School, The New School at the Wilson Site, Marie H. Reed Community Learning Center, McKinley Middle School and Academies of Loudoun.
"We are excited to collaborate with the Falls Church community and our design-build partners to deliver a modern learning environment that's flexible as education needs shift in the future," said Jennifer Macks, Senior Project Executive at Gilbane Building Company.